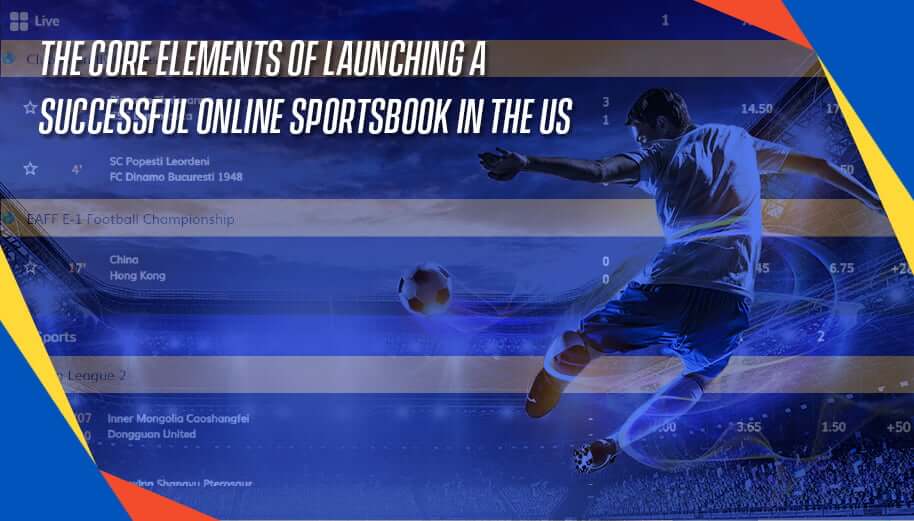 Sports betting and many other online sports and gaming have extended the market greatly with multifold benefits and reasons. Whether due to technology advancements or the increasing prevalence of sports as a profit generator and much more; the gaming and gambling industry is continuously growing and seeing tremendous growth. This has given the highest growth pace to the
sportsbook industry
which provides multiple ranges of sports in one place to bet on and enjoy. Among all the worldwide betting and sportsbook industries, the US sportsbook industry is seeing something very different from the others. The US online sportsbook market is growing at the highest speed and hence has developed multiple opportunities for new entrants. There are, however, certain elements and key considerations that are to be worked on before you launch a sportsbook in not just the US region but anywhere in the world.
Online Sportsbook Business & Market Analysis
The sportsbook market in the US has experienced significant growth in recent years, driven by the legalization of online sports betting in several states. With the repeal of the Professional and Amateur Sports Protection Act (PASPA) in 2018, many states have moved to legalize sports betting, creating a multi-billion dollar industry. A report analysed the sportsbook market value of $7.7m in 2021 which can rise to the breakthrough of $129.3bn with a growth rate of 14.7% until 2028. The report cites several factors driving the growth of the market, including the increasing popularity of sports, the rise of online betting, and the liberalization of laws and regulations related to sports betting.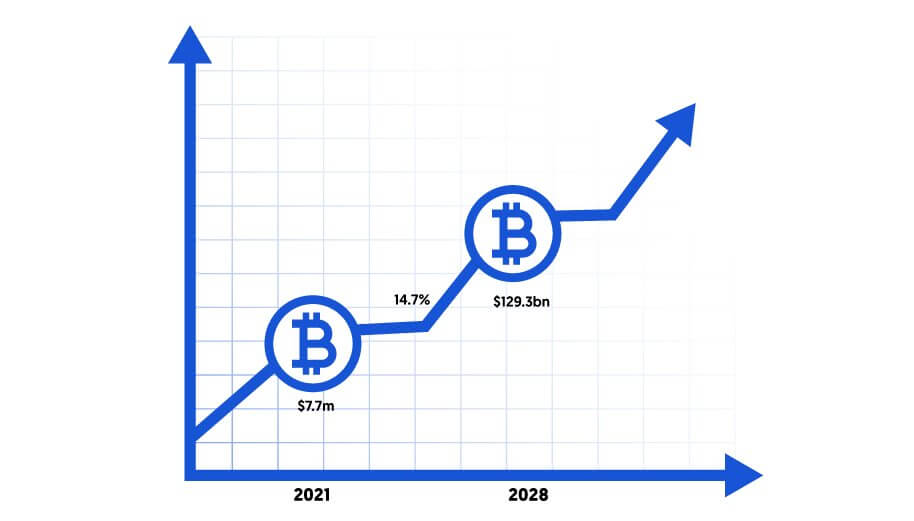 Launching an online sportsbook in the US can be a challenging task due to various legal and regulatory restrictions. However, with the increasing popularity of online sports betting, it can also be a lucrative business opportunity. Therefore, to let your market entry easy and convenient here comes the details about key elements to consider for a successful online sportsbook launch in the US.
Launching a Sportsbook Platform In The US: Key Elements To Consider Before You Go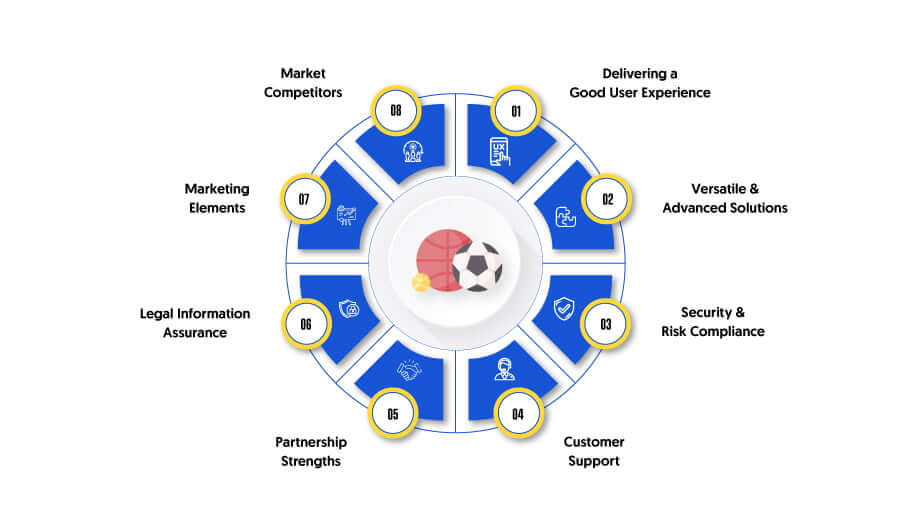 Delivering a Good User Experience
Providing excellent customer support is essential for a successful online sportsbook. In the US where customers prefer emotional benefits with every product or service, utilizing sound experience and value in the platform with multiple channels of support can be life-saving. For instance, quick response times and helpful assistance can go a long way in building customer loyalty.
Versatile & Advanced Solutions
The online sportsbook platform should be user-friendly and visually appealing. It should also have a high level of functionality and be able to handle a large volume of bets. A well-designed platform that is easy to navigate can attract new users and retain existing ones. A successful online sportsbook should offer a variety of betting options, including traditional sports betting, live in-game betting, and daily fantasy sports. Providing users with a range of options can help cater to different preferences and increase engagement.
Security & Risk Compliance
Security and compliance are critical elements for any online sportsbook. If launching a sportsbook platform in the US, secure payment processing systems to employ encryption to protect user data is what one must think about at first. It should also comply with all the relevant laws and regulations, including anti-money laundering (AML) and know-your-customer (KYC) requirements.
Customer Support
Providing excellent customer support is essential for a successful online sportsbook. The platform should offer multiple channels of support, including phone, email, and live chat. Quick response times and helpful assistance can go a long way in building customer loyalty.
Partnership Strengths
Developing partnerships with sports leagues, teams, and media outlets can help to increase the visibility of the online sportsbook. This can include sponsoring events, advertising on television or radio, and partnering with popular sports blogs or websites.
Legal Information Assurance
Sportsbook and gambling industry runs on legal and jurisdictional compliances all around the world. When thinking about legal requirements for launching a US sportsbook strategy in the US, the first step is to know about and obtain a license from the state. Just like the US, each state/country has its own licensing requirements and application process, so it's essential to research and complies with all the regulations.
Marketing Elements
A solid marketing strategy is crucial for attracting users to the platform. Marketing an online sportsbook in the US could include social media campaigns, search engine optimization, and affiliate marketing. Offering attractive promotions and bonuses can also help to incentivize users to sign up and place bets.
Market Competitors
The legalization of sportsbooks in the US has also opened up new opportunities for businesses and entrepreneurs looking to enter the market. This includes the emergence of new online sportsbook platforms and the expansion of existing ones. As the market continues to grow and evolve, sportsbooks are looking to differentiate themselves through innovative features, attractive promotions, and exceptional customer service.
Want to Know More
About the Best Practices?
How To Launch a Sportsbook In a Systematic Process
When launching a sportsbook platform in the US, a systematic process must be followed up that allows easy identification of issues and their potential rectifications, and also aids in eyeing every step of development clearly.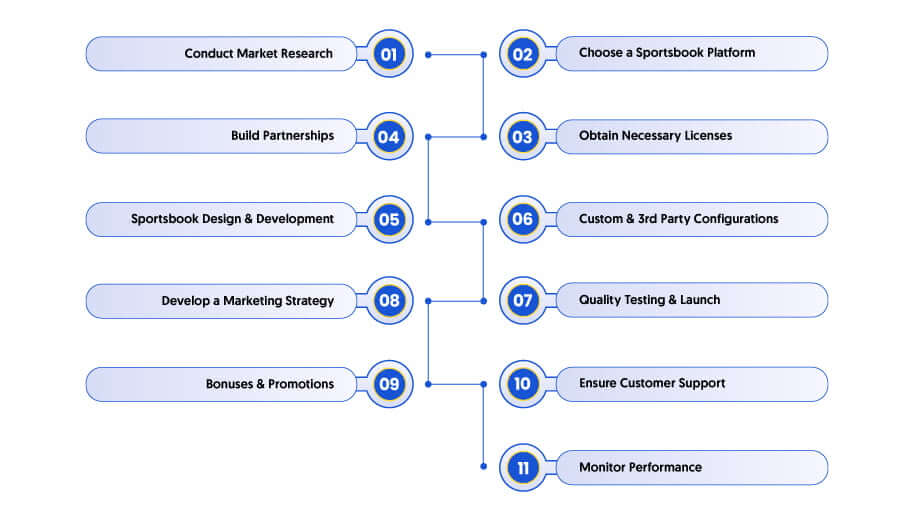 Conduct Market Research
To begin with launching a sportsbook in the US, conduct thorough market research to identify the target market, competition, and potential customer base. Gather information about their preferences, needs, and expectations.

Choose a Sportsbook Platform
Choose a reliable sportsbook platform that fits your needs and requirements. Look for a platform that is user-friendly, and secure, and offers features such as live betting, in-play betting, and mobile optimization.

Obtain Necessary Licenses
Obtain the necessary licenses and permits to operate a sportsbook business. The requirements may vary depending on the country or state where you plan to operate

Build Partnerships
Build partnerships with sports teams, leagues, and organizations to increase your credibility and visibility. You can also collaborate with other businesses in the industry to expand your customer base.

Sportsbook Design & Development
Setting up an online sportsbook business in the US proceeds with the next step of designing your sportsbook solutions and developing its programme for full accessibility.

Custom & 3rd Party Configurations
Let's make it more interesting and attractive with the easy integration of custom and 3rd party tools integration. This can get your business unique and higher personalisation.

Quality Testing & Launch
When launching your sportsbook business in the US with the finest providers, supreme quality testing of the developed software lets you easily launch with complete market strength.

Develop a Marketing Strategy
Develop a marketing strategy to promote your sportsbook business. Use a combination of online and offline marketing channels to reach your target audience. Social media advertising, email marketing, and search engine optimization are some effective online marketing channels.

Bonuses & Promotions
Offer attractive bonuses and promotions to attract customers and retain them. This can include free bets, deposit bonuses, and loyalty programs.

Ensure Customer Support
Ensure that you have reliable customer support in place to address customer queries and concerns. This can include email support, live chat, and phone support.

Monitor Performance
Monitor the performance of your sportsbook business regularly. Keep track of metrics such as customer acquisition, retention rate, and revenue. Use this data to make informed decisions and improve your business operations.
EXPLORE MORE BLOGS FROM VARIOUS CATEGORIES
Partner With GammaStack For a Successful Sportsbook Launch in the US
A successful sportsbook launch in the US requires developing your solution from a reputed, world-class, and premium sportsbook software development company like GammaStack. We are an online sportsbook business provider with industrial experience of 8 and more years. GammaStack has the topmost quality sportsbook solutions and systems to offer that are ready to launch, customisable, and even third-partite to offer your sportsbook exactly what you need. With all core elements involved to launch a successful sportsbook in the US, get in touch with GammaStack whose solutions and overall customer experience can make you completely delighted.
In conclusion, launching a successful online sportsbook in the US requires careful planning, compliance with regulations, and attention to customer needs. By building a robust platform, offering a range of betting options, providing excellent customer support, and developing a solid marketing strategy, online sportsbooks can attract and retain users and become a profitable business.
What is a sportsbook?
A sportsbook refers to an online solution or platform which consists of many global sports, events, matches, leagues, etc. which can be recorded, virtual, or even live and allow players to access, see, and place their bets on to win prizes.
How to bet on the sportsbook?
The sportsbook provides access to multiple sports and events along with the relevant odds which explains the potential of each player or team to win. Based on the provided data, the player places the bets and wins if the predictions are right.
Is sports betting legal in the US?
Yes, sports betting has been legalised in most of the states of the US like Colorado, Columbia, Connecticut, Indiana, Illinois, Kansas, etc. and it still awaits legal initiatives in many other states.
How can I get a sportsbook business launch in the US?
Ally with the top, a reliable, and authorised sportsbook software provider in the US like GammaStack for an effective launching of sportsbook business.
What are the benefits of launching a sportsbook from the top provider?
Top systems and tools, the finest risk management options, the safest payment system, customisable opportunities, and many other benefits are associated with the sportsbook.
Is custom sportsbook development possible?
Yes, with GammaStack, you can customise the sportsbook and equip it with the features, tools, and systems of your choice.
What is better: ready-to-launch or custom sportsbook software?
Well, this depends on the business requirements. A quick market entry always demands ready-to-launch sportsbook solutions where custom ones are a good fit for a business that aims to maintain unique market positioning.
How can I analyse the legal requirements for launching a US sportsbook?
GammaStack is the one-stop solution for all your queries and assistance related to launching a successful online sportsbook in the US.
Our team has recently been informed about certain entities or persons who are doing online frauds by falsely positioning themselves as representatives of our organisation. These individuals have used different social messaging channels such as Skype for doing frauds & acquiring online payments via crypto from a few individuals. Read More..