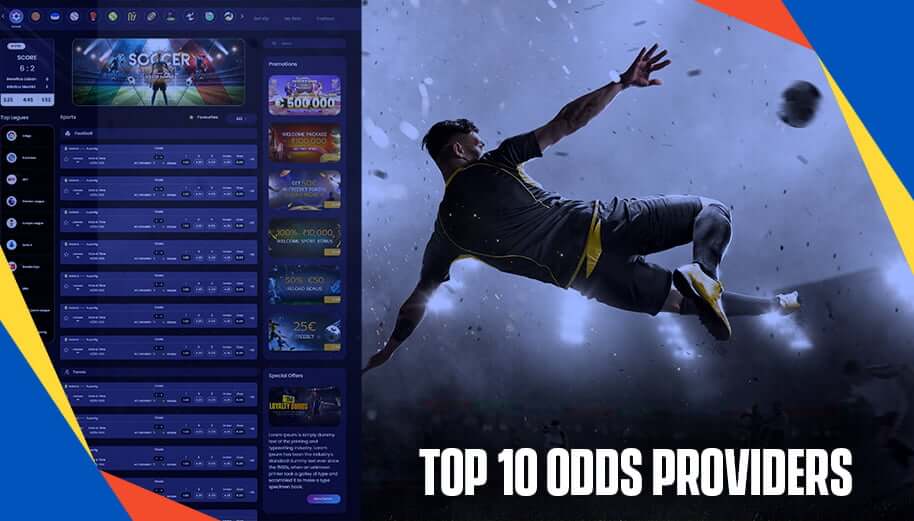 The online world of sports betting is rising tremendously and comes with pre-loaded features, tools and functionalities that overcome day-to-day challenges faced by users and visitors. And it's needless to say that it is not at all easy to handle the demands of this everyday changing world; where people are served everything on a single platter whether it's an e-commerce website or a
sports betting website
To keep the business high standard among the competition, it has become a necessity for businesses to have top-notch sports betting data providers that enable their users a more convenient and easiest form of entertainment. In this competitive world, where even a small mistake can turn your business upside down, it is very important to take note of every single thing. In
sports betting businesses
where a huge amount of money is involved, high-risk management is the prime focus. But is it just about finance management? Not, a sportsbook must have user-engaging themes, third-party integrations, real-time stats management and other features to make it a successful business. Third-party integration plays a major role in making any business a success or a failure. So, we are here to make you pick your well-grounded sports betting data provider. While there are a plethora of betting odds aggregators available, we ensure that only you only choose a betting odds aggregator that is reliable yet cost-efficient. A lot of sports betting details depend on odds, the precision of which assists punters to be engaged to a website that gives more precise betting odds. Along with bets, when you provide your users with a plethora of betting markets, there are higher chances of traffic on your sports betting website as multiple betting markets provide more chances for the users to use their betting skills. Thus, making your platform more competitive and reliable. So, finding online sports betting odds providers just with a single click on Google would make no benefit to you. As there are ads running and inorganic traffic building from the SEO claiming to be the best choice. But you don't want to make such hard decisions just with Google. You need to take a deep dive into choosing the best real-time sports data and odds provider to make your sportsbook a successful betting platform. When your sportsbook is covered with reliable and trustworthy odds feed providers, it gives you the confidence to handle your business freely. Picking up the right betting odds API provider could be painstaking. While there are hundreds of data and odds providers for sports betting, choosing the best among them can be time taking. And we are here to take you out of this dubious situation as we bring the top 10 odds providers that can be the best fit for your
sports betting software platform
. Whether you are a startup or a well-established business, this article has got you all covered with the information that can be fruitful for you in picking up the ideal sports data and odds provider. You can choose the best betting API provider for your business that can not only provide competitive odds but ensures a streamlined business. Before we begin with the listicle, let's have a glance at the odds, how they work and their types in the sports betting business.
What are the Odds and Odds API Providers in Sports Betting?
If you are someone who is into regular betting then the term "odds" can sound similar to you. The odds in sports betting are similar to that in any betting. Odds are nothing but the probability of an outcome in a sporting event. In every sporting event, there can be a wide range of differences between one outcome occurring compared to another. Sports betting odds are the interpretations in the numerical form of these outcomes. Wondering sports betting are values or numbers that punters place their wager on, and odds, on the other hand, are provided by the odds providers which offer statistical logic and make the betting convenient. That's why they are rightly called third-party Odds API providers. Depending on the place users are betting from, there is a different form of odds available which we will discuss in the later section.
Different Types of Sports Betting Odds Explained
Sports betting odds aggregators differ from country to country. Although the value for the odds remains the same, it's just the perspective that is changed. In other ways, the payout money is the same in all cases. Depending on the part of the world a user is betting, odds can be of three types: Let's learn more about the aforementioned odds in detail: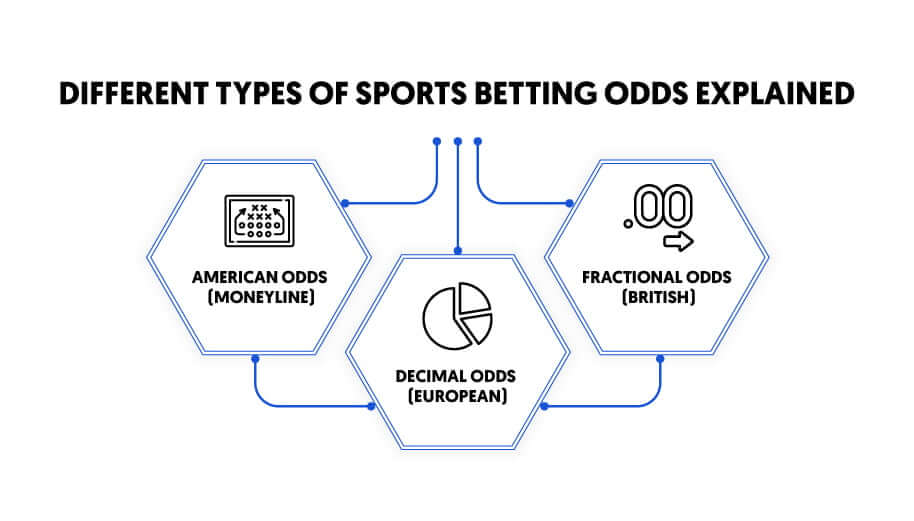 American Odds
American odds are primarily used by gamblers based out of the United States. American bets are also known as money line odds or US odds. The sports betting odds NFL for favourites and underdogs are accompanied by a minus (-) and they not can (+) sign respectively. We will see with an example in the next section how these odds work for a stake to win $100.

Decimal Odds
Decimal odds are also known as European odds, digital odds or continental odds and are common in European countries like Ukraine, Italy and France, and common among Australians. Decimal odds are simpler and easy to understand, especially for beginners. The decimal odds number represents the amount one wins for every $1 wagered.

Fractional Odds
Fractional odds are mostly used throughout the UK and Ireland and are also known as UK odds. These are the oldest forms of odds as they came first with horse race betting, also called traditional odds. These odds are a bit complex as they are written in "fractions" and beginners may find it a bit dubious. These are typically represented with a "slash (/)" or a "hyphen (-)," e.g. 4/1 or 4-1 and announced as "four-to-one."
So, these are the major types of odds that are used in different regions. Although the way they are written changes, their meaning remains the same.
How do Odds work in Betting?
So, now that you know the different types of odds, let's have a clear understanding of how these odds work one by one:
American Odds
The favourites are signified with a negative symbol and underdog with a positive symbol. If given two players of the game you want to bet upon namely Duke and Lycus and here are the odds for them:
| | |
| --- | --- |
| Player's Name | Betting Odds |
| Duke | -760 |
| Lycus | +585 |
Here Duke has a higher probability of winning the game according to your bookmaker than Lycus. So, if you want to bet on Lycus, you need to stake $100 to win $585, and in that case, if Lycus wins the game, you win your initial stake of $100 back along with the $585. On the contrary, where Duke has higher chances of winning, you would need $760 to bet on Duke to win $100. So, the total payout would be $860 ($760 stake + $100 profit won). Odds can change as the match or an event proceeds.
Decimal Odds
Decimal Odds are the direct representation of the amount one wins at every $1 wager at stake.
| | |
| --- | --- |
| Total Payout = | Stake * Decimal Odds |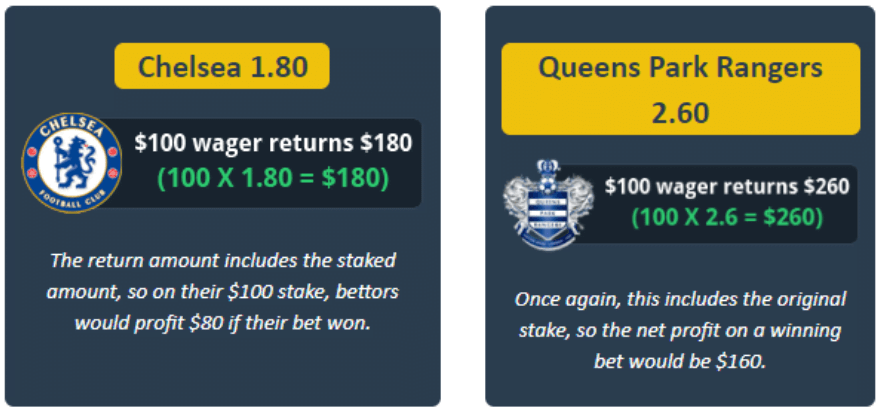 If you stake $100 on a decimal odds of 1.80 for Chelsea and you win the bet then you will receive $180, similarly, if you bet on Queens Park Rangers for an odd of 2.60 and you win the bet, then you will receive $260.
Fractional Odds
Fractional odds could be quite messy while betting as these are the traditional bets. The total payout for these bets depends on the following formula: Total Payout = [Stake x (Numerator/Denominator)] + Stake where, numerator= 58 denominator= 9 Fractional odd= 58/9 Similarly taking an example for three teams that had the lowest odds against winning: Golden State: 11/12 Houston: 10/4 Cavaliers: 7/2 While looking at the odds, it can be easily guessed that Golden State is the favorites while Houston and Cleveland winning are longer. That is you win $11 against each $12 wagered on Golden State. On the other hand, you win $10 against each $4 and $7 against each $2 which is at least a probability. So, this is how the odds work in a betting platform.
Importance of Odds in a Sportsbook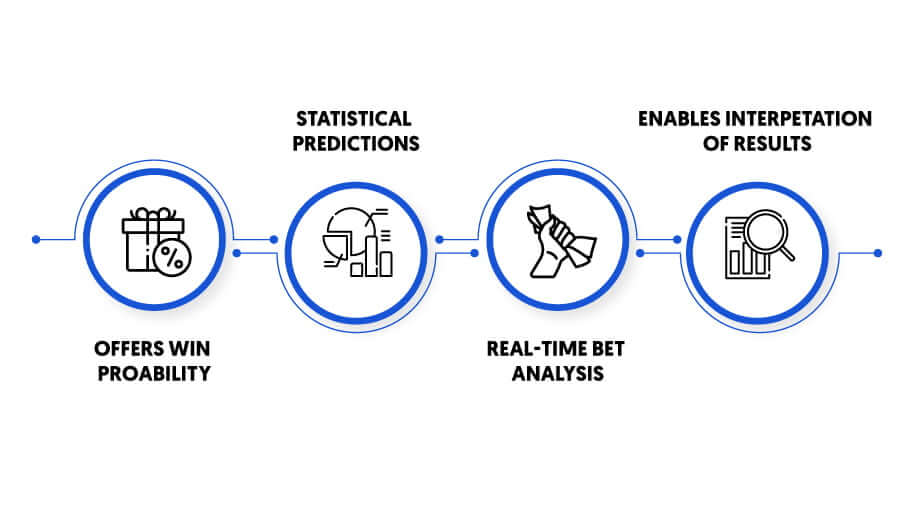 Odds are not only of importance to the bettors who place a bet on sports betting websites but also to the sportsbook who provide real-time odds. Odds provide bettors with ease to bet on multiple leagues and events. This helps them discriminate against another betting they place on a specific league of the same sports.
Yes, odd can be adjusted by the oddsmakers or the sportsbooks. Adjusting the odds mainly depends on the supply and demand chain. The point being offered and the payout available should be streamlined by the sportsbook or the odds providers. There are high chances of risk if the betting lines do not move. Factors on which adjustment of odds depends:
While there can be several other factors as well, these were the most prominent factors.
Factors to keep in mind while choosing your betting odds provider for sports betting websites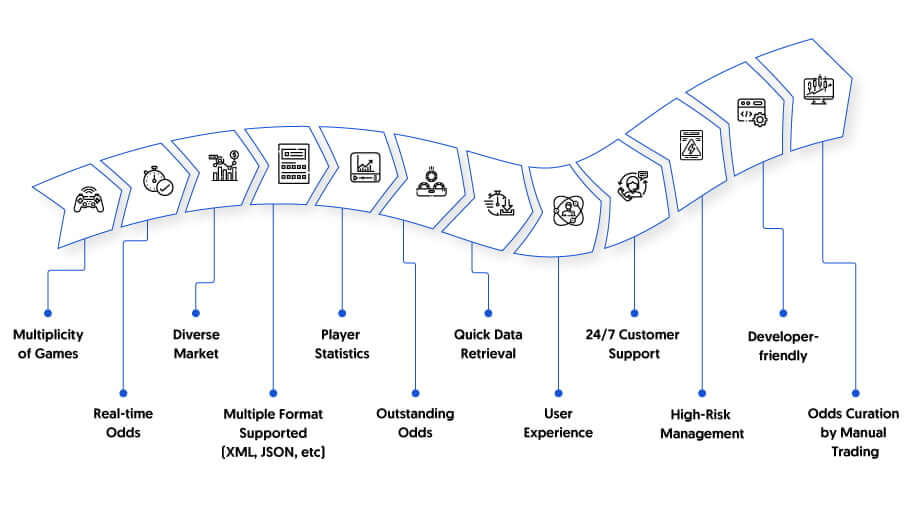 Multiplicity of Games
A real-time sports data and odds provider must support different games to provide your players flexibility to choose from a wide range of sports, their leagues, etc.

Real-time Odds
You must check that the company must provide live sports betting odds or sportsbook live betting odds so that your sportsbook may not fall.
Diverse Market
A sports betting odds provider must be able to provide multiple markets to the sports gamblers so that they can choose from a different market to place bets upon.

Multiple Format Supported (XML, JSON, etc)
Data and odds providers for sports betting must support multiple formats such as XML, JSON and other formats. This enables you to retrieve the data easily and efficiently.

Player Statistics
For you to be a top-notch sportsbook, you must have all the information that a punter might need before placing a bet on your sports wagering platform. And for this, your data & odd provider must have players statistics to play wisely.
Outstanding Odds
You must always elect an odds provider which offers the diverse range of odds systems and other sports betting products. Getting an odds provider which offers the best odds is important to take your business ahead.

Quick Data Retrieval
Sports betting odds providers must have a high functionality system for fast data retrieval rate to keep engaging your users.
User Experience
Odds providers must provide multiple filters for market types, bet types, favourites, underdogs, so that they can be filtered from a single channel. This increases the user experience.
24/7 Customer Support
What takes an odds provider company in top? Well, it is their efficient and any-time customer support. Businesses that offer 24*7 assistance must always be the first selection.
High-Risk Management
A sports betting odds provider must have high-risk management capabilities to keep free from any kind of frets. They must have risk analysts and risk management tools to keep secure and safe betting.
Developer-friendly
Sports betting odds APIs must be developer-friendly so that they can be integrated easily into a sportsbook or a sports betting website.

Odds Curation by Manual Trading
Along with highly functional odd calculators, sports betting odds API providers must have a team of manual traders who with all their analytics and stats double-check every odds to ensure smooth operations and high-risk management.
Well, you shouldn't be missing any of the features mentioned above in your sports betting platform to drive more traffic.
Want to Know More
About the Best Practices
Top 10 Odds API Providers for Sports Betting Websites
As an odds provider, it takes a reat sense of time and efforts to curate the best odds and stats for clients. There are mant providers that leave no stone unturned while developing the best odds for businesses.

Betradar
Betradar is the renowned betting odds provider. Covering data and statistics of 45+ sports, they have tracked 223,376 fixtures. This indeed is a large number to show their capabilities. They are trusted and reliable odds providers who have served over 600 bookmakers including 40 state lotteries in over 80 countries with their quality data and statistics.

Lsports
Lsports is another sports data feeds provider and odds provider company which covers a great range of sports like trotting, greyhound, horse racing, and what not. Equipped with more than 50 sports portfolio, Lsports offer all sport-enable products globally.

Donbest
Donbest is the leading odds provider for the sports betting industry. From real-time odds to multiple trading solutions they have got you all covered with their top-notch sports data and odds services. They also provide additional services that include consulting services to the sports wagers.

ExeFeed
ExeFeed is one of the top odd providers for sportsbooks. Led by professionals from the betting industry, ExeFeed mission is to provide customized solutions as per the client's need and provide exceptional high-quality service and data.

Goalserve
Providing its services in more than 10 languages, Goalserve is the leading sports data and odd provider company. Established in 2005, they have marked their presence in the USA, Europe and India with Data and Production operations in Italy, India and Ukraine. They aim to provide a fast data retrieval rate with HTTP, Sockets, FTP, and PUSH technologies along with supporting XML and JSON files.

Betfair
Betfair also allows users to place bets on its platform. Betfair's name is added under the most trusted and reliable sports data and odds providers.

eOddsmaker
With 150+ market types, eOddsmaker specializes in football betting odds trading. They have covered 600+ football leagues worldwide providing data and odds to their clients. They also have various mechanisms of integration with existing sportsbook software.

Sportsdata.io
Sportsdata.io is awarded FSTA Best Sports Data Provider for the year 2018 & 2019. They not only cover sports but also provide odds and sports data for media and other industries. They aim at reducing costs and adding value to their clients' sportsbooks. They have added many big names to their clientele including Microsoft, Fanduel, Betconstruct and much more.

Odds And More
Odds And More is one of the most successful odds provider company which offers the competitive and innovative sports betting and odds solutions that can customised as per your requirements.

GeniusSports
GeniusSports is another odds and sports betting data provider that works across the globe to help betting businesses and professionals with the amazing odds and information.
Odds Integration in Your Sports Betting Platform
When the data and odds are released in the most favorable format, mostly XML or JSON, odds integration is done by the facilitator or the sports betting software provider who develops your sportsbook or betting website. The facilitator picks the odds provider of your choice and then with the help of their developers, they built the frontend, backend, and user interface to fetch the odds perfectly and display it on the screen in the right manner.
EXPLORE MORE BLOGS FROM VARIOUS CATEGORIES
How GammaStack helps you discover your right sports data and odd provider?
GammaStack is a well-established sports betting software provider company. We provide state-of-the-art
sports betting solutions
to the clients across the world. Having experience in the iGaming industry for more than 8+ years, we are well-positioned to offer highly user-engaging iGaming solutions. With our sports betting experts, we provide you with the best consultant service for picking up the best sports data and odds as per the requirements of your business. So, you can choose your best idd provider with us without any hassle. At GammaStack, we aim to provide top-notch iGaming solutions and services including white-label
sports betting software solutions,
esports betting,
fantasy sports betting and much more.
What are the odds?
Odds, from the sports betting perspective, are the numbers that showcase the probability of an event to occur, which means it shows the potential of an entity to win or lose.
How do sports betting odds work?
The sports betting data providers offer a list of odds, which are the oddsmakers' opinions and statistical ideas about expected wins or losses. The punters can then refer to these odds and based on predictions, the punters can finally make a win.
How to read sports betting odds?
To read sports betting odds, you first need to see the negative and positive symbols added. The one with the negative symbol represents how many wagers you need to place to win $100.
Can I customise my sports betting software from GammaStack?
Yes, GammaStack is the sports betting software provider company which offers the best-in-class customisable betting solutions and odds from across the world.
Are odds beneficial in sports betting?
Yes, odds are beneficial from a betting perspective because it gives a complete understanding of the probabilities to win, offer accuracy in results, and many more.
In what different formats odds can be retrieved?
Odds can be provided by the operator in XML or JSON file format.
What are the things to be kept in mind when choosing an odd provider?
Real-time odds provider
Support multiple games
Provides Support
Risk Management
Developer friendly
Does the provider change the odds?
Yes, to ensure streamlined business processes, odds can be altered.
Do you provide odds integration?
Yes, we provide odds integration from the leading odds provider including Lsports and others.
Can we choose odds providers by ourselves?
It's your choice, we can integrate odds from your reliable odds provider.
Our team has recently been informed about certain entities or persons who are doing online frauds by falsely positioning themselves as representatives of our organisation. These individuals have used different social messaging channels such as Skype for doing frauds & acquiring online payments via crypto from a few individuals. Read More..