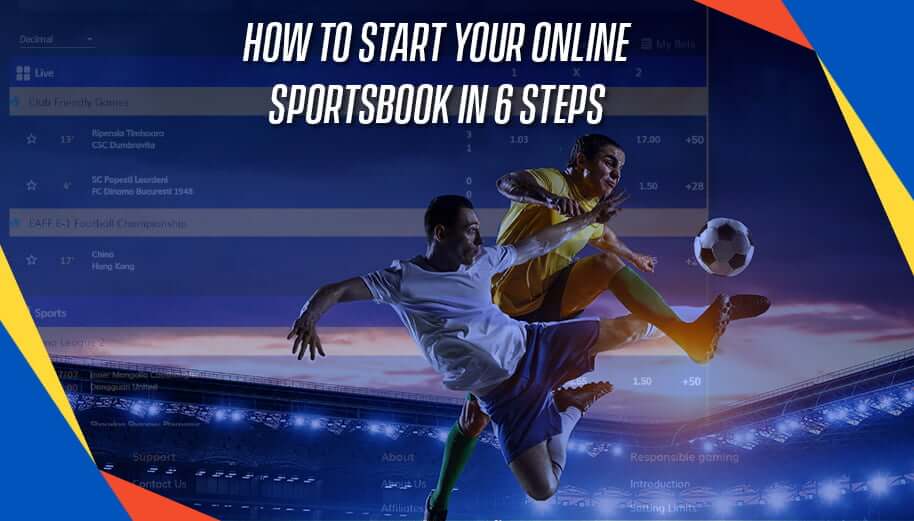 The sportsbook industry is a rapidly growing sector of the global gambling market. It involves the process of placing bets on various sporting events, ranging from traditional sports such as football, basketball, and baseball to emerging markets like eSports and virtual sports. The industry has seen significant growth in recent years due to the increasing popularity of sports betting and the widespread legalisation of online gambling in many regions. The sportsbook business is highly competitive, with many operators vying for a share of the market. Successful sportsbooks must offer a user-friendly platform, a wide range of sports and betting options, competitive odds, and top-notch customer support. Overall, the sportsbook industry is an exciting and dynamic sector of the gambling market, with significant growth potential in the coming years.
Sportsbook Business: Details & Market Analysis
The trend of starting a sportsbook business is rising so tremendously across the globe that every new or existing business is wanting to look forward to a major market capture. The global surveys have come to the analysis that the sportsbook and gambling industry is surpassing $ 83.65bn in 2022 and may reach $182.15bn by the end of 2030, stating a CAGR of 10.3%.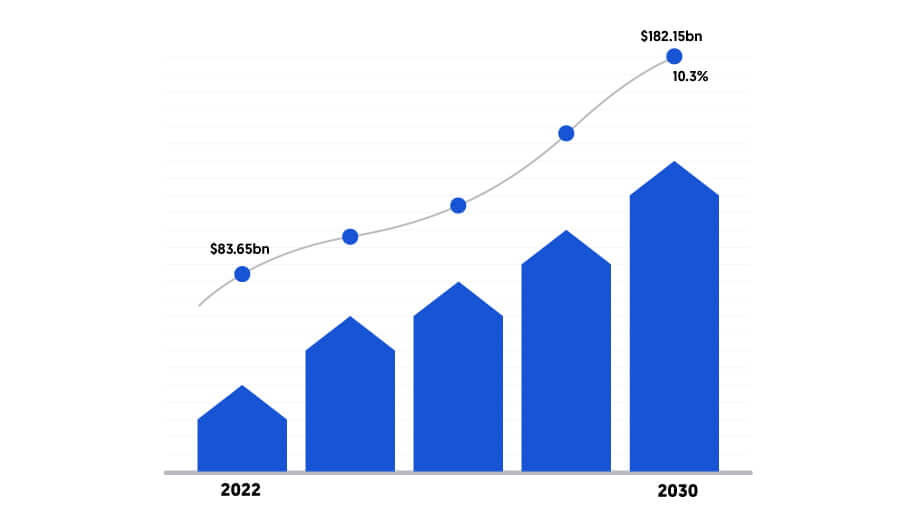 The increasing numbers in the sportsbook trends are because of the diverse range of betting services and options it offers such as basketball, golf, baseball, hockey, badminton, tennis, cricket, and many more. Moreover, the bonus features and amazing service offered in a sportsbook also make it a good business deal.
Importance Of Starting a Sportsbook Company With Proper Guidance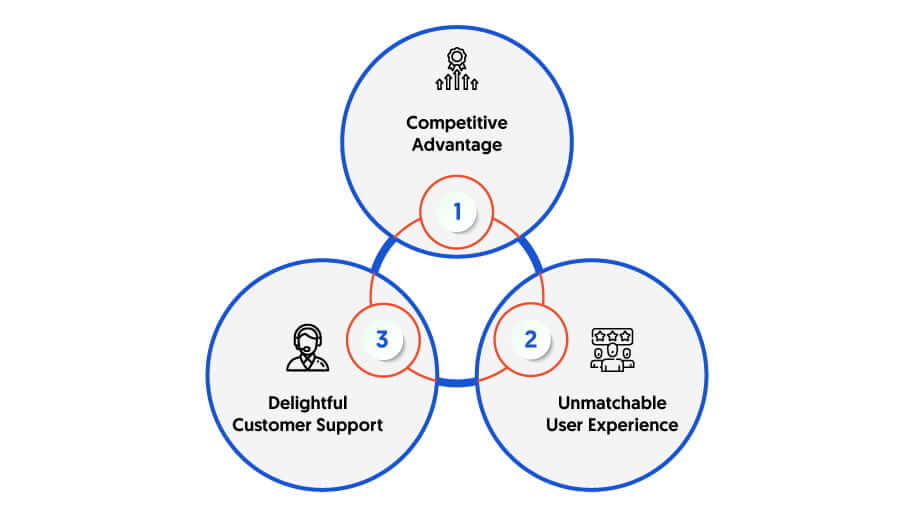 Competitive Advantage
Starting a sportsbook company with complete clarity and understanding of the process lets your business attain a good competitive advantage in the field. Sound knowledge of the sportsbook fundamentals, and the overall idea of the must-have features of a sportsbook is important to make yourself uniquely stand out in the industrial crowd.
Unmatchable User Experience
As we see many sportsbooks operating in the industry and still very few can be called unbeatable, what makes them reach this position? Well, it is the user interface and its friendliness and experience that builds your sportsbook the strongest. Getting the finest sportsbook business ideas from the top providers always coaches your business about user preferences and thus lets you get the most outstanding UI/UX elements.
Delightful Customer Support
Starting a sportsbook business gives most of the importance to understanding the key vitalities of, and providing the best customer experience in order to keep your brand values higher. So, knowing the steps of starting a sportsbook company in 6 steps has an unsung need to look for customer support too.
Want to Know More
About the Best Practices?
How To Start An Online Sportsbook Business In 6 Steps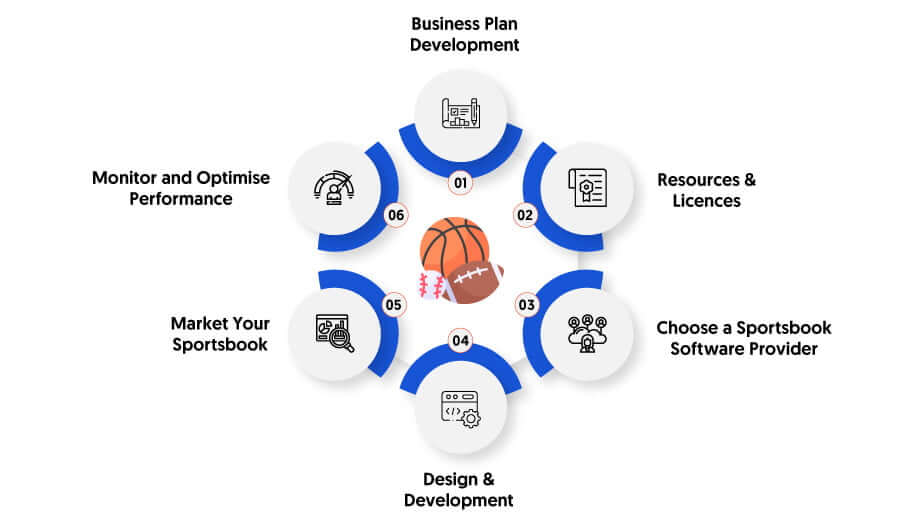 Business Plan Development
Start by developing a comprehensive business plan that outlines your objectives, strategies, financial projections, and other key details. This plan will serve as a roadmap for your business and help you stay focused on your goals.

Resources & Licences
Obtaining a license and gathering resources that are needed for the development is a crucial step in starting an online sportsbook business. You will need to apply for and obtain licenses from the relevant regulatory authorities in your target market. The requirements and fees for obtaining licenses vary by jurisdiction. For the other resources, collaborating with 3rd party providers or customising it can be an option.

Choose a Sportsbook Software Provider
There are several sportsbook software provider available in the market. Choose a provider that offers a user-friendly platform, extensive sports coverage, and a range of betting options. It is also important to choose a provider that is reliable, secure, and offers good customer support.

Design & Development
Getting the best sportsbook software provider takes you to the next step where a sportsbook is designed, developed, and integrated with top-tier custom and 3rd party integrations. The step involves developing complete sportsbook solutions with complete risk management, payment support, and every other important tool.

Market Your Sportsbook
Once your sportsbook is up and running, you will need to market it effectively to attract customers. Consider using various marketing channels such as search engine optimization (SEO), social media advertising, affiliate marketing, and content marketing.

Monitor and Optimise Performance
Once your sportsbook is operational, you will need to constantly monitor its performance and make adjustments as needed. This may involve analysing customer data, tracking website traffic, and making changes to your marketing or product offerings based on your findings.
EXPLORE MORE BLOGS FROM VARIOUS CATEGORIES
The Future Of Sportsbook Business
The global sportsbook industry has been growing rapidly in recent years, and this trend is expected to continue in the future. The increasing popularity of sports betting and online gambling in many countries around the world are key factors driving the growth of the industry. Knowing that legal acceptance is the most talked about around the world, it may see a positive side in the coming years of betting and sportsbook business development. Nevertheless, the rapid technological advancements, however challenging to adapt, opens the gate for novel techniques and innovations in the industry which can lead to a profitable future for the sportsbook industry.
Best Sportsbook Business Ideas Stay At GammaStack
If you are thinking about how to start a sportsbook business, then your answers are all available at GammaStack. We are a team of excellent developers and professionals that are directed to provide clients with the never-seen-before kind of sportsbook software solutions and help start a sportsbook company. With fully customizable opportunities to even ready-to-use products, GammaStack has everything to offer based on your queries related to how to start a sportsbook company. For all unique traits, GammaStack assists in six steps to start an online sportsbook that is equipped with cutting-edge features and specifications that fully suit your expectations.
With GammaStack, Get More & More Sportsbook Perks
Make GammaStack your provider of the best sportsbook business ideas and aid your business development practices more flexible and advantageous.
FAQs - How To Start Your Online Sportsbook In 6 Steps
What is a sportsbook?
A sportsbook is a platform that allows customers to place bets on various sporting events.
How do sportsbooks make money?
Sportsbooks make money by taking a commission or "vig" on the bets placed by customers. They may also adjust their odds to ensure a profit margin.
What software do I need to start a sportsbook?
You will need a sportsbook software provider that offers a user-friendly platform, extensive sports coverage, and a range of betting options.
What licenses do I need to start a sportsbook?
The licenses you need will depend on your target market. You will need to research and apply for licenses from the relevant regulatory authorities.
How do I market my sportsbook?
Marketing strategies may include search engine optimization (SEO), social media advertising, affiliate marketing, and content marketing.
How do I ensure my sportsbook is secure?
You can ensure your sportsbook is secure by implementing strong authentication and encryption protocols, regular security audits, and compliance with regulatory standards.
How do I handle payment processing for my sportsbook?
You will need to partner with payment gateway providers and payment processors to enable customers to deposit and withdraw funds easily and securely.
What trends should I be aware of in the sportsbook industry?
Key trends to watch include the increasing popularity of mobile betting, the growth of eSports and virtual sports betting, and the emergence of blockchain and cryptocurrency-based sportsbooks.
Our team has recently been informed about certain entities or persons who are doing online frauds by falsely positioning themselves as representatives of our organisation. These individuals have used different social messaging channels such as Skype for doing frauds & acquiring online payments via crypto from a few individuals. Read More..