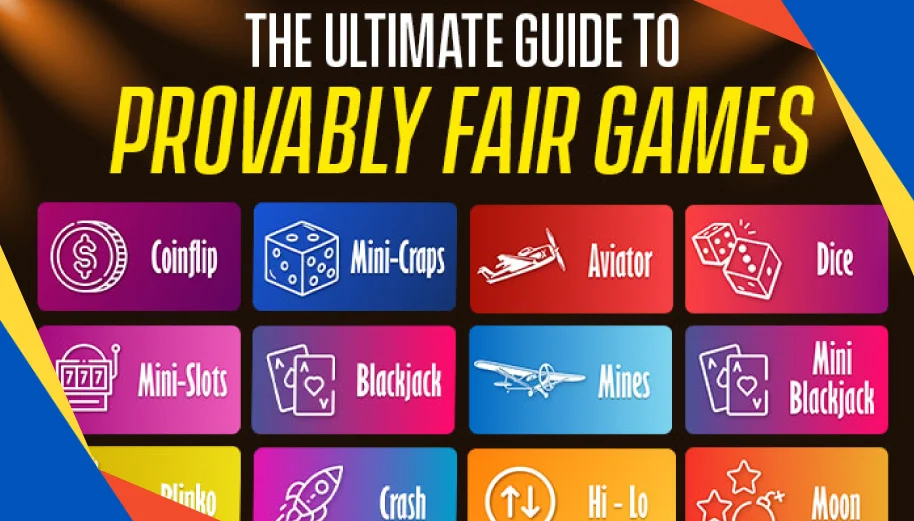 Technology has always determined and defined how punters gamble online. The rise of online sportsbooks, online casinos, online lottery platforms etc have always impacted the way of gambling. There are several industries that have already witnessed an immense revolution, and there are some that are going through it. But, there are a few technologies that have changed and permanently shaped the future of gambling. The rise of Blockchain and new technologies have made it possible to have safe gambling experiences online and thanks to the crypto gambling industry, customers now enjoy enhanced privacy. And one such revolution that has transformed the
online casino industry
for good is bitcoin casino Provably fair. There was a time when punters didn't trust RNG systems. There were several rumours circulating online about the rigged nature of online games.
What Are Provably Fair Games?
Provably fair, as the name suggests, allows customers to verify the unbiasedness and fairness of the outcomes generated by the online casino games. This is huge. Today, casinos cannot cheat their gamblers because the outcome can be easily verified. What makes these games so special? These games are crafted with advanced algorithms and run on platforms that make use of smart contracts, which means, it becomes 100% impossible for the operator to tamper with the game results. The algorithms also make use of Blockchain, which helps in randomising certain actions, such as coin flipping, shuffling of cards, etc.
Provably Fair Casino VS Traditional Online Casinos
The Provably fair casinos are different from traditional casinos in two ways. The very first one is how the outcome is generated. Bitcoin casino provably fair games make use of algorithms and the results get stored in hash. Players can access it later to verify the result of the game. On the other hand, traditional casino games make use of Random Number Generators (RNG), the result of which cannot be verified. Another difference is that of third party dependency. Provably fair bitcoin games eliminate the need of third parties, as everything gets stored on Blockchain. Traditional casinos still rely on third parties and the customers cannot verify the outcome of the game personally.
Impact of Provably Fair Bitcoin Games on Online Gambling Industry
The rise of online casinos brought a massive revolution in the ways of gambling. There was a time when people used to spend a fortune to gamble. But the arrival of online gambling changed everything. Undoubtedly, online casinos attracted tremendous success, but with success also came suspicion. Several gamblers started suspecting the fairness of the games. No wonder, one can find several instances and articles on the web, raising questions about the unbiasedness of the results generated. The arrival of provably fair game offered a huge relief to this major pain point of gamblers. Today, customers can seamlessly verify the results generated by the Bitcoin casino provably fair games without any hassle, and play with confidence, knowing that the outcome of the game will be 100% fair. Provably fair games also eliminated frauds and cheating. These games have undoubtedly enabled online casinos to stay transparent and fair. Provably fair games also levelled the playing field. Since the outcomes are determined by cryptographic methods and algorithms, casinos or players cannot have an unfair advantage over one another. The popularity of provably fair bitcoin games has only increased in the past few years. Let's take a look at some more reasons why gamblers love them so much.
Want To Launch Your Bitcoin Casino Provably Fair Game with Full ownership?
Why Provably Fair Games are Popular?
The answer is simple. Because they offer more benefits than traditional online casino games. Below are some of the key benefits customers enjoy when they play bitcoin casino provably fair games.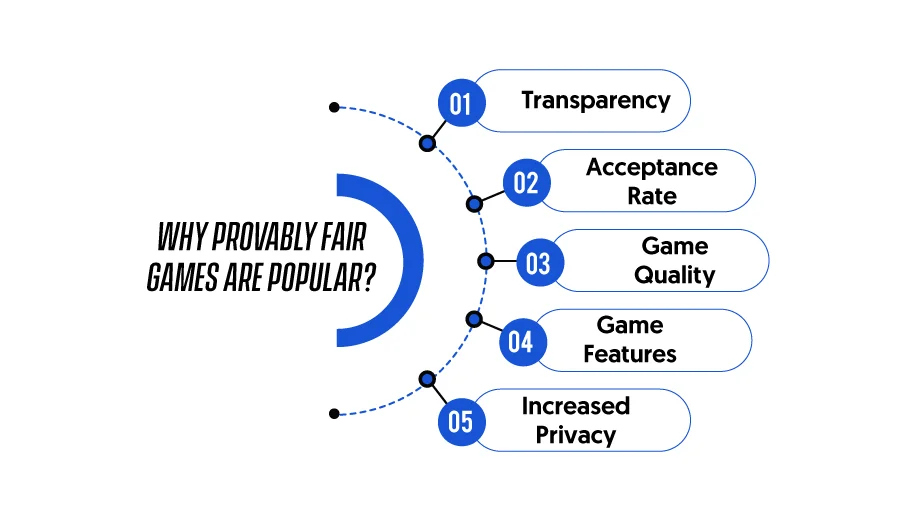 Transparency
A simple Google search will give you several articles about how online casino games are rigged. Even if they are not, there are several gamblers who claim them to be. Provably fair games resolved this pain point of several gamblers who used to hesitate before putting their money in the game. Since results can be verified, it leads to enhanced customer satisfaction, experience while operators get to maintain transparency and credibility.

Acceptance Rate
The best part about provably fair games is that they allow bets as small as $5. There is no restriction and no compulsion. Players can place wagers of the amount they see fit without feeling overwhelmed.

Game Quality
Provably fair games come with great graphics. Now this can vary from game provider to game provider, but this most of the provably fair games come with clean, crisp and high-end user interfaces that are designed to deliver best-in-class experiences on budget.

Game Features
Provably fair games offer every feature that's offered by any high-end casino online. These include free spins, sign up bonuses, promotions, loyalty bonuses, VIP programs, instant cashouts, cashbacks and more.

Increased Privacy
Another reason to love provably fair games is cryptocurrency support. The customers can seamlessly deposit their choice of currency and start playing without any hassle.
Top Provably Fair Games Gamblers Love to Play
Though new games are launched almost every week, there are a few games that have made a place for themselves in the game list of every punter. Let's take a look at some of the most popular and most played provably fair games.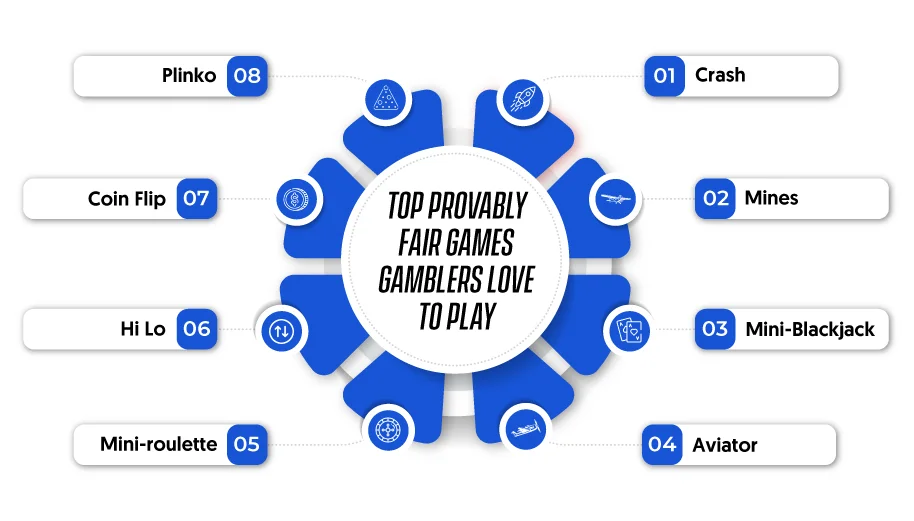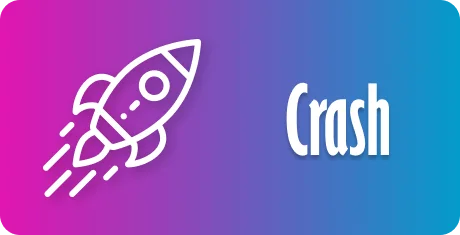 Crash is one of the most popular online mini-casino games that's played by most punters online. It's loved all over the world because of its simple, fast-paced nature. The game of crash consists of a multiplier that starts increasing as the game starts. The players need to cash out before the multiplier crashes. If they manage to do so, they win, otherwise they lose.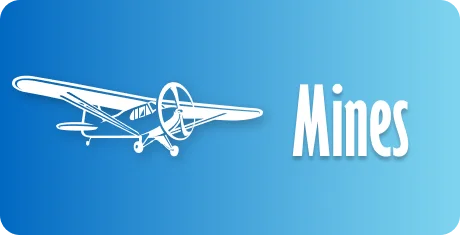 We all have played minesweeper at some point of our lives. The game of mines is no different. The players are supposed to avoid randomly placed mines and in order to win, they need to uncover all the safe squares.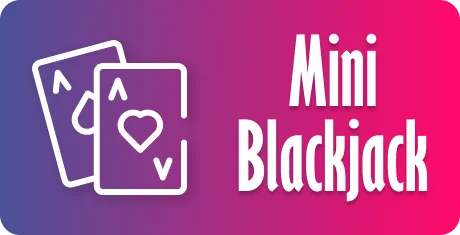 Also known as 21, Blackjack is another popular game which is a must have for your online mini-casino. The game is played with 52 cards and is played against the dealer, not other players.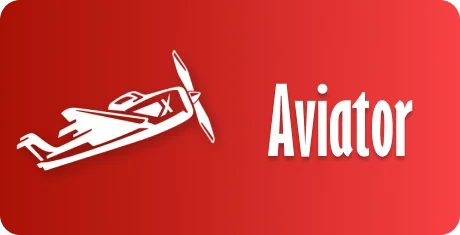 Aviator is a multiplayer game which is similar to the game Crash. The multiplier starts rising, forming a curve, and the customers need to cash out before the aviator flies away. It has the same fast paced nature as Crash, which makes it one of the popular games among punters.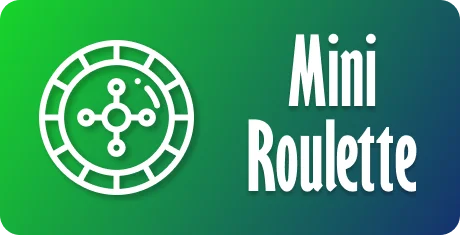 The game of mini roulette includes a wheel that consists of numbers from 0-12. Players are supposed to guess where the ball will land on the wheel. Punters can bet on colours, numbers etc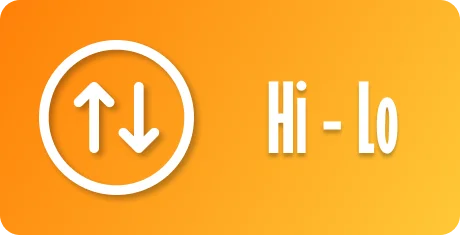 As the name suggests, the game of Hi Lo is a card game, where customers need to guess if the next card is going to be higher, lower or equal value as the current card.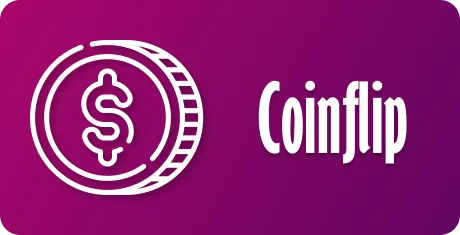 As the name suggests, the game of coin flip is simple. The player needs to guess whether the outcome of the coin will be heads or tails. If the coin lands on its edge, the player gets a bonus coin flip. It's as simple as that.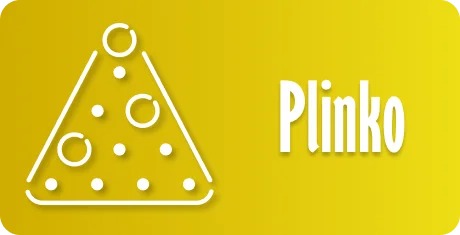 Plinko is equally fun to watch as fun it is to play. Players are required to drop the puck/ball from the top of the frame, which travels to several pegs and then finally lands into a slot.
EXPLORE MORE BLOGS FROM VARIOUS CATEGORIES
How GammaStack can Help you Launch Provably Fair Games
GammaStack is one of the prestigious and renowned provably fair games providers that specialises in providing highly engaging and electrifying games such as Mines, Moon, Aviator, Plinko, Mini-blackjack, Mini-roulette, Coin Flip, Hi Lo, Crash and many more.
Our customers can choose from our ready to launch games that can be customised as per brand needs, or can also opt for our custom game development services that allow operators to build their unique ideas to stand out from the crowd effectively. We also provide post launch services that include marketing support, updates installation, customer support and marketing assistance. Once the game is launched, we hand over the complete rights of the game as well as of the customers to the operators.
What technique is used by the provably fair games provided by you?
Our provably fair games make use of Hashing, one of the known cryptographic techniques that helps you ensure the fair outcomes.
What provably fair games do you specialise in?
Some of the games we specialise in include probably fair dice fames, Moon, Mines, Aviator, Crash, Mini-blackjack, Mini-roulette, Hi Lo, coin Flip etc.
Do you also provide ready to launch games?
Yes, we also specialise in providing ready to launch games that come with plenty of scope of customization.
Do you also provide custom game development services?
Yes, our services also include custom game development services.
What services come included with your post launch services?
Some of the services include updates installation, maintenance services, marketing assistance and customer support.
Our team has recently been informed about certain entities or persons who are doing online frauds by falsely positioning themselves as representatives of our organisation. These individuals have used different social messaging channels such as Skype for doing frauds & acquiring online payments via crypto from a few individuals. Read More..