Sports Betting 3rd Party API Integrations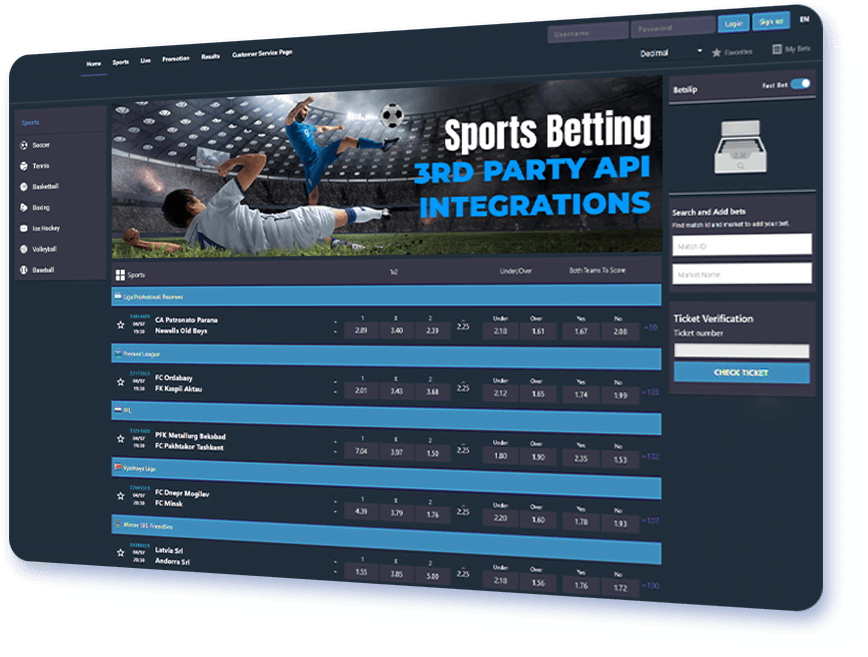 World-class Sports Betting 3rd Party API Integrations
The sports betting industry revolves around 3rd integrations as it requires live data, live streaming of games and much more. APIs are the fastest and easiest way that many industries are using to improve agility and scalability in their software. Third-party APIs help businesses ease their operations and improve their customer experience. Since sports betting is more about real data & odds, third-party data providers play a major role in the sports betting market. Whether it's odds/data integration or payment gateway integration or KYC integration, we have got you all covered with our services.
Added Benefits To Our Sports Betting 3rd Party API Software
Fiats & Cryptocurrencies
Bitcoins, Binance, Ether, etc. cryptocurrencies and fiats can be added to the sports betting 3rd party API integration solutions for enhanced payments.
24*7 Guidance
We're available round-the-clock for our customers and players to help them in real-time with query resolutions and the eradication of errors.
Fast Cashouts & Withdrawals
Grab the benefit of immediate withdrawals and cashouts using our fast processes of finance, which lets you wait no longer for your wins.
Risks Management
All our sports betting 3rd party API integration software comes with a complete risk management kit to prevent fraud while betting.
Smart Contracts
Our sports betting solution come with complete standardisation, authentication, and security to help your business with the best services.
Bespoke/Custom Solutions
Uniqueness and personalisation are what you can advantage of your platform with our custom sports betting 3rd party API integrations.
Bonus & Rewards
Reward yourself with the best referrals, bonuses, freebies, cashback, and many more when using our software.
Player Account Management (PAM)
Organise, administer and manage multiple user accounts in a single hand using the PAM model offered by us.
Major Third-Party Integration for Sports Betting Software
Different organizations work on different models and thus there are different integrations available in the market that can be integrated easily. Below are some of the important third-party integrations that are necessary for sports betting software:
For any
sports betting website
, betting odds play a major role as it is directly associated with betting. Betting odds integration provides users with live odds using exclusive mathematical models along with fixtures of different matches of different sports events. A betting odds API enables users to get live betting live market odds on other sports betting exchanges. Here are a few tips to choose the best betting odds, and integration provider:
Betting odds providers must support multiple sports and leagues so that you can find everything in one place.
Multiple Format Supported
Data feeds should be retrieved in a compatible format such as JSON or XML.
The provider must be able to provide quick and real-time odds that enable users to enhance betting.
A betting odd provider must be able to show player statistics, standings, ro Here are a few companies that provide live betting odds.
Online Casino Integration
Online casino integration is in most demand these days as businesses want to expand their revenue generation. Both live and online casinos can be incorporated into their betting platforms or can be deployed separately. White-label solutions, crypto casinos, telegram casinos, customized virtual casinos and many others are offered by us. Tips to choose your best online casino integration services:
Always try to look for casinos that provide advanced analytics and recommendations to the players so that they can make their decisions wisely. Whether it's a live casino or virtual casino, players should know all the necessary information and providing this can make your casino stand apart from others.
Dedicated Backoffice for Player & Game Management
A dedicated back office for player and game management is a must-feature for casinos to make it easy and smooth for casino players. A back-office can make things simple eradicating complexities.
Live Dealer & Virtual Casino
The casino provider should have both live dealers and virtual casinos to enable a hassle-free experience for the players. Live dealer games include baccarat, poker, and blackjack, & virtual casino include football, horse race, dog race, basketball and many more.
The casino should offer multiple online casino games that should entice a huge casino audience providing them with an excellent experience. And can further be enhanced with more games. Eg: Baccarat.
Payment Gateway Integration
There are over 1000's APIs that already exist in the financial category, and there are a lot more to join the lists. payment APIs are integrated into sports betting software to help enhance regulatory compliance. The other way, it's more about the financial safety of the gamblers. With over 30,000 transactions per minute that take place on a gambling platform, it is very important to ensure the right payment gateway integration for your business. Which payment gateway support betting Here are a few tips to choose the best payment gateway:
Payment Gateways that Support Sports Betting
Payment gateways must support sports betting because there are payment gateways that don't reinforce betting.
Global Payments (Geography Specific)
Payment gateways should be flexible enough to accept and make payments in different geographical areas.
Mobile payments have become a convenient form of payment with fast-driven technology. Betting can be made readily available on mobile devices and so is payment.
For easy and convenient payment, a payment gateway must have a one-click checkout payment. This enables users to make hassle-free payments.
It should be able to accept debit and credit card payments so that it helps gamblers to make payments according to their choice.
Multi-Currency Support (including crypto)
It should support multiple currencies including cryptocurrencies. This gives them more flexibility to choose their payment.
It's very important to know your customer. Since betting revolves around huge transactions of money, it is important to obtain information about the identity of your customers. A KYC (Know Your Customer) API integration allows you to verify your identity when a user creates a new account. Thus, securing your platform from fraudsters. Here are a few tips to choose the best KYC Integration services: Here are a few tips to choose the best payment gateway:
Check whether your KYC provider has access to local registries of the country you are going to offer sports betting to your consumers. Ask for a country coverage list.
Some countries like Australia and Russia follow data localization laws. Ask them about where their servers are located and how they manage their users' data from these countries.
It's very important to follow proper regulations in the sports betting industry. One single mistake can create a huge loss. Make sure that your KYC provider covers AML, anti-fraud, KYC & KYB.
If possible take a demonstration of their product to check on all of their compliances. A demo clarifies most of the documentation.
You can ask them for a list of databases they are connected to. This helps you to reduce the vulnerability of your database.
Email & SMS API Integration
Today, almost all businesses use SMS and emails to keep in touch with their customers. An email & SMS API sends business emails & SMS to your customers. No matter how small or big your business is, an email & SMS API integration must have to enhance the customer relationship. Here are a few tips to choose the best Email & SMS API Integration provider:
Access to multiple accounts
It should provide access to multiple accounts so that you and your team can send SMS and emails to the users whenever needed.
A provider must be able to provide SMS & Emails reports so that you can track your sent messages & emails with their history and delivery reports.
Ensure that the provider offers uptime SLA which ensures that every message is delivered to your customer at the right time. This ensures that they don't miss any chance.
The provider must have 24/7 customer care support that can help you assist with their services.
Why Is Integration Necessary?
Third-party integration not only allows you to quickly add a feature or tool to your betting business but also enables you to upgrade your betting platform as and when needed. With third-party integrations, you need not upgrade your software with those challenging development costs. Yet with a few basic steps and your business is all set with new features and tools.
Betting Styles You Need To Know About

Traditional Betting
Prevalent among beginners, the traditional betting type helps place single, double, or even multiple bets for easy outcomes.
Parlay
Put different bets that are tied together to make a unitary bet to generate larger payouts.

Head-to-head
The head-to-head style of betting uses two results only viz. Win or lose, thus making the bets on the expected outcomes.

Handicaps
This offers benefits to weaker and threats to stronger players for more challenged betting.

Over/Under
This style uses a specific number range, and punters bet on over or under the bet as per the possibility of outcomes to win.

Each Way
This uses two bets or more - a win bet and the set bet, placed in a way that leads to less-risked betting.
Pool Betting
Putting similar bets in a pool, and identifying the 'vigorish' bets so that the payouts can be divided accordingly is what pool betting does.
Major Sports & Esports To Be Added
In the rising trends of betting, offer yourself a wider catalogue of esports that includes
Process: Sports Betting 3rd PArty API Integration Software


02
Wireframing & Sketching 08
Post- Execution Support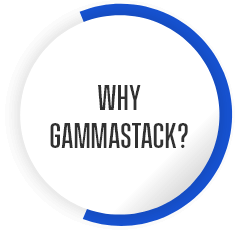 Premium Bespoke Solutions
On-Demand Hiring Facility
Timeliness & Quality Promised
GammaStack is the leading sports betting 3rd party API integration Service provider. We hold expertise in dealing with the 3rd parties and offer integration services. From betting odds integration to payment gateway service, KYC integration, and Email to SMS service integration, we have got you all covered with our services. Our 24/7 backend support services are meant to cater to your business needs just when you need them. With over 15+ projects, we take pride in providing 3rd Party API integration services in sports betting to clients across the globe. We are also the leading provider of sports betting applications and software solutions that has helped businesses to thrive their goals.
FAQs - Sports Betting 3rd Party API Integrations
1. What is meant by 3rd party integrations?
The sports betting 3rd party integration services incorporate multiple features such as sports betting platforms, betting systems, risks management, payment systems, etc. from the third party and are integrated with the sports betting software.
2. How can I get the best developers on hire?
Get in touch with GammaStack today, tell us all your requirements, and we are there to help you with the best suggestions.
3. What are the benefits of getting sports betting 3rd party API integrations?
Finest solutions, top-notch systems, first-class tools and elements, and many more are the benefits that come with the 3rd party integration services.
4. Can I get a custom sports betting solution for my business?
Yes, get as many custom solutions as you want with the sports betting software to make it more personalised and unique.
5. Can GammaStack help me with a ready-to-launch solution?
Yes, GammaStack provides the most versatile ready-to-launch sports betting solutions for your quickest entry into the market.
6. What top features can be included in sports betting 3rd party API software?
Bespoke odds, payment gateways and systems, anti-risk tools, wallets, UI/UX designs, etc. can be included in our sports betting 3rd party API integration services.
7. What payment gateways can be added to our sports betting 3rd party API integrations?
Some of the trending payment gateways include Skrill, Stripe, Harvex, PayPal, etc.
We'd love to hear from you and are happy to answer any questions.
In the past years and upcoming ones, the online gambling and betting industry has been on fire. Indulging in B2B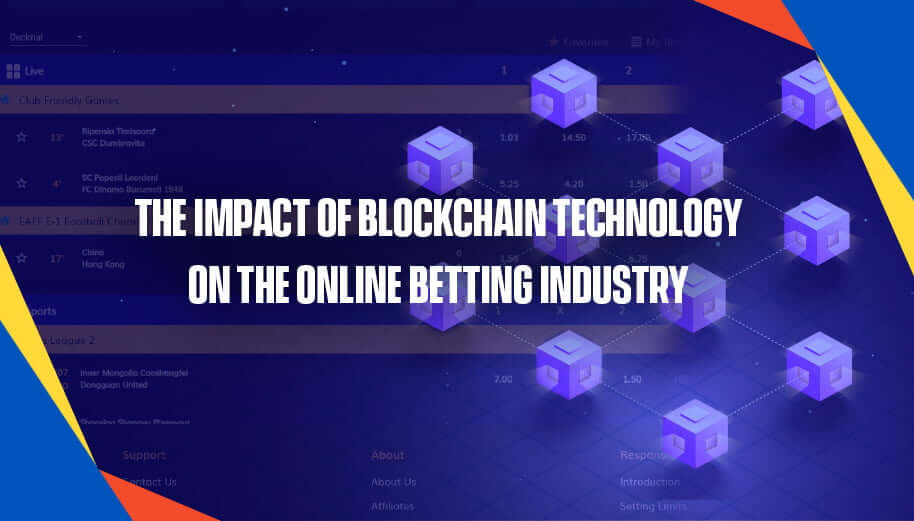 The trends of online sports betting have grown exponentially and will be witnessing tremendous heights in the coming decades. Most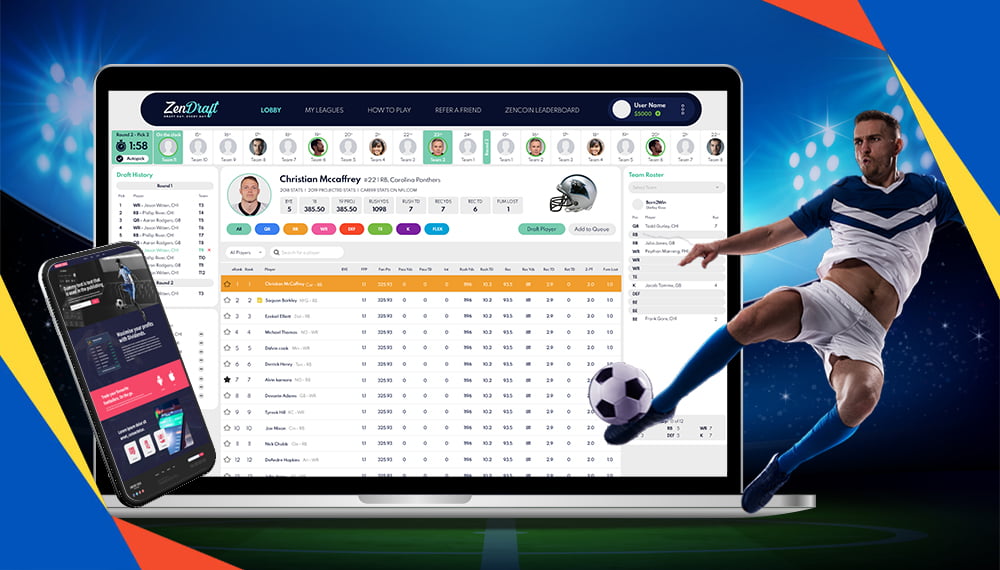 Betting exchange is a marketplace where bettors can directly place wagers against one another rather than placing bets against a