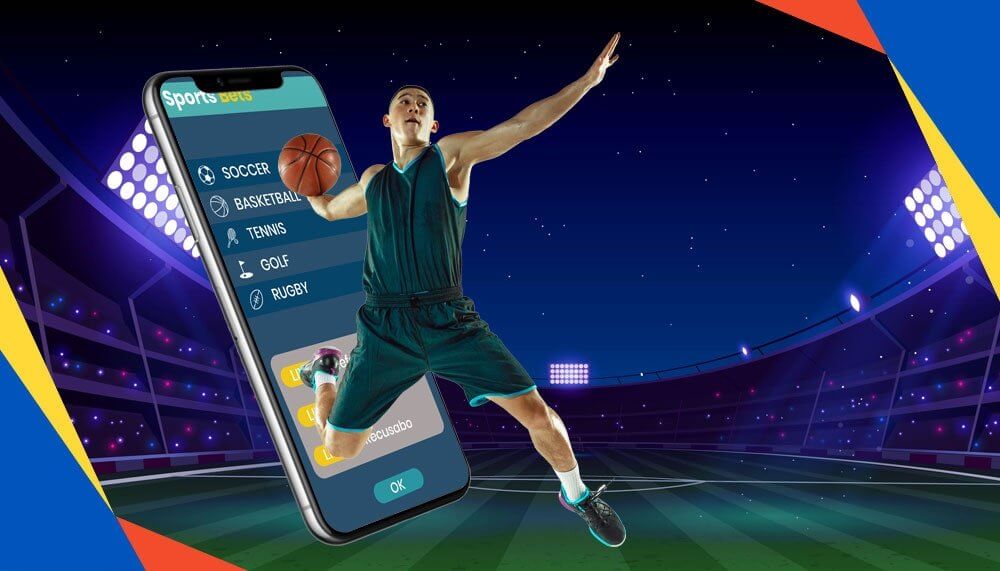 Commencing from just 5,00,000 in 1988 to more than 56.8 million in Canada and USA alone, the count of fantasy sports users has grown tremendously in the past few years. Undoubtedly, fantasy sports is multi-million dollar and its entire ecosystem comprises aspects such as online playing, sponsorships, draft parties, merchandise, actual game tickets, brand marketing , etc. The biggest and most powerful influencers are the fantasy sports players who elevate the popularity of the real games counterparts. Backed by the on-going advancements in technologies, the fantasy sports industry is witnessed as one of the significant catalysts that can contribute in transforming the casual sports fans into the enthusiastic players. The popularity of fantasy sports is increasing tremendously and spinning the adrenaline rush of the fantasy sports fans. As per the prediction by analysts, the market of global fantasy sports is expected to grow at a CAGR of nearly 12% till 2022.
Overview of Fantasy Sports Market
In the initial years, the industry of professional leagues used to stay quite conservative for fantasy sports activities. But in recent years, the view of industry has become more accepting and liberal. Previously, the advent of DFS leagues were dismissed by legal authorities as they felt that players get exploited in the form of assets through such activities. However, due to acceptance by the large populace, the way for different daily fantasy and pro league partnerships has been made by the professional leagues. The market size of fantasy sports is expected to reach beyond $1.5 billion by year 2024 as it's CAGR growth rduring 2018-2024 is more than 11%.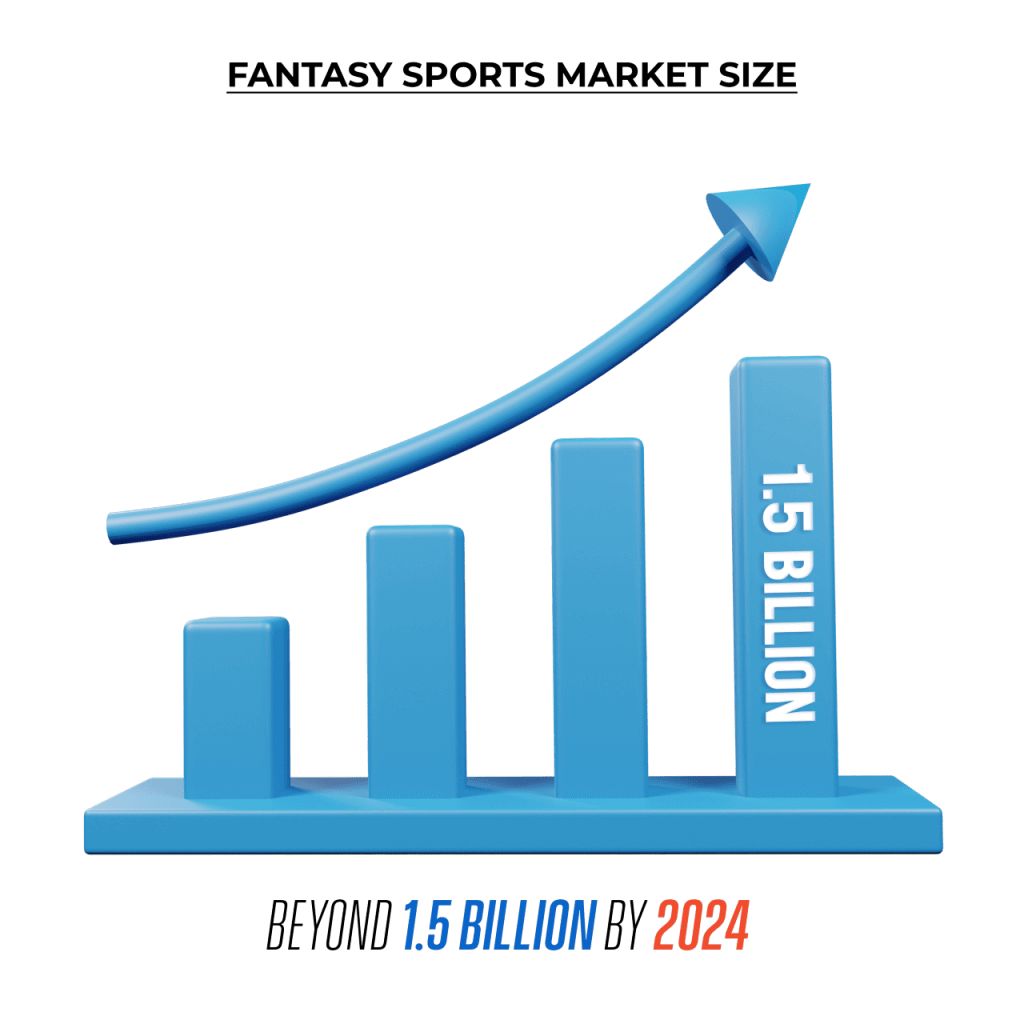 Factors that can Contribute in Enhancing Growth of Fantasy Sports Market

Enhancing Partnerships
The fantasy sports industry has witnessed many partnerships as well as Strategic Collaborations with Different Stakeholders in the past few years.

Growing Marketing and Advertising Spend
There is a significant spend on advertising and marketing methodologies for fantasy sports industries which is ultimately contributing towards the enhancement of the fantasy sports industry. The crucial announcements such as lifting up of ban on fantasy sports ads by Google in certain states of the US also boost up the advertising campaigns of fantasy sports. The growing advertising and marketing campaigns lead to more popularity of this lucrative industry and drive more count of audience towards it.

Increasing Interests of the Millennial
The millennials are born with the Internet as well as digitalization and thus can't imagine the world without it. Such high-tech generations are always inclined towards something skillful and innovative hence they find fantasy sports a bit interesting and tricky. This interest graph is expected to witness a remarkable upsurge in the upcoming year of 2023 with more enhancement in the fantasy sports industry.

Increased Count of Sports Events that are Organized Worldwide
A myriad of sports events were organized worldwide in 2020 with maximum participation of fantasy sports players.

Increasing count of sports events worldwide contributes to the growth of the fantasy sports industry significantly.

Urge of Participation
The urge of participation rather than just watching the sports events has hiked the bar of fantasy sports market significantly. Nowadays people are more keen towards participating in a sport, showcase their gaming skills and getting rewarded for it. But it is practically not possible for them to get into the gaming arena of real sports thus to bring their fantasy into reality, fantasy sports has proven to be a one-stop solution. Thus, the urge of participation of fantasy sports enthusiasts brings greater engagement.

Technological Advancements & Availability of Trusted Streaming Partners
Various technological advancements have led to the enhanced count of audiences for fantasy sports. Development of ultra-modern fantasy sports platforms make it quite convenient for the players to take part in fantasy sports contests. Multiple state-of-the-art features such as achievement badges, loyalty programs, etc bring more engagement to the people. Availability of various reliable streaming partners also contribute to enhancing the popularity of fantasy sports.

Increasing Penetration of Internet & Adoption of Smartphones
Higher Internet penetration will definitely drive the fantasy sports market in the upcoming year of 2023. Combining the increasing usage of the Internet with the emergence of easily affordable and available smartphones will lead to an exponential increase in the participation of players in fantasy sports.

Competitive Landscape
The market of fantasy sports seems to be fragmented because of the existence of multiple competitors in the industry. With the presence of a myriad of competitors in the fantasy sports industry, it becomes quite difficult for different brands to establish their unique presence. Thus, they keep on striving hard to integrate state-of-the-art and trending features in their platform which in turn create a competitive and enhanced landscape for the fantasy sports industry.

Fantasy Sports Platform Development
Several new fantasy sports platform development companies have been established in the past few years and many more are expected to be launched in 2023. Thus fantasy sports businesses will get multiple options for getting their own fantasy sports platform developed in an efficient manner.

Growing OTT Platforms
The increasing popularity of the OTT platforms will augur well for the segment of fantasy sports. The combination of fantasy sports and OTT platforms will prove to be a precise match for the entire entertainment business and will eventually contribute in boosting the growth of the fantasy sports industry.
READERS OF THIS BLOG ALSO READ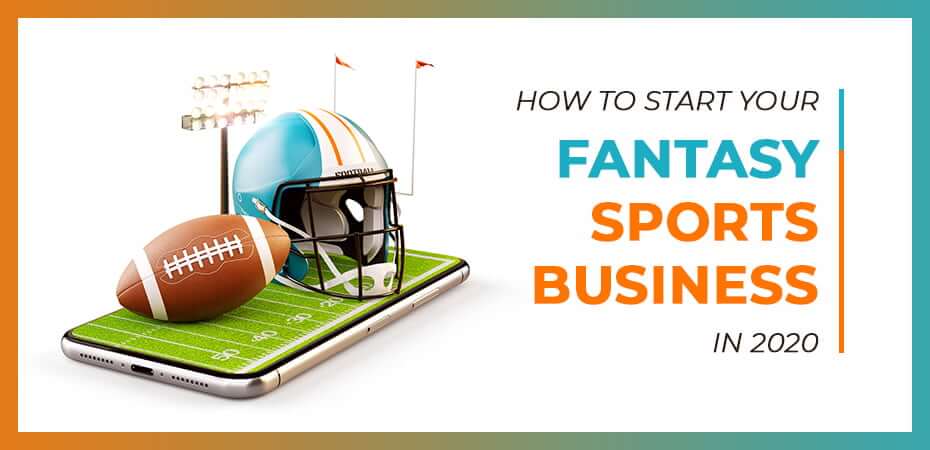 How to Start Your Fantasy Sports Business in 2023- An Ultimate Guide
December 5, 2021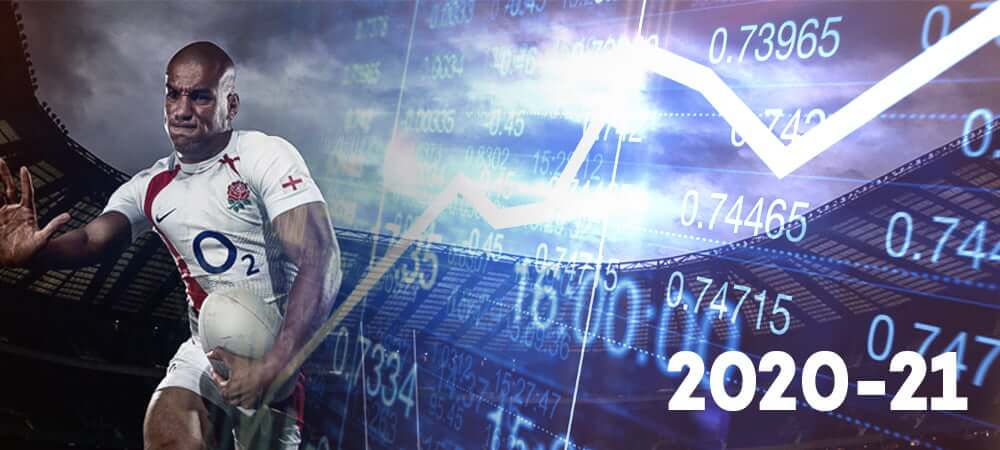 Global Trends which will Affect Fantasy Sports Industry in 2023
December 4, 2021
Fantasy Sports Market Segmentation
The segmentation of fantasy sports market by sports is as follow:-

The increasing popularity of Football globally proves to be a major cause for its highest share in the fantasy sports market segment. In 2018, this segment captured nearly half of the market in 2018. Higher fan engagement also contributes in driving the market segment of fantasy Football. Strategic partnerships and supporting products launch across the fantasy platforms are the major contributors in raising standards and enhancement of fantasy Basketball across different countries.
As per gender, fantasy sports market can be segmented as:-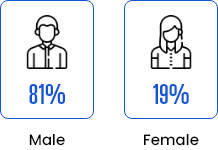 Men have always been more receptive towards sports and games thus the male segment always accounts for major share market of fantasy sports. However the female segment is also growing rapidly and the major reason for it is the increasing awareness about the fantasy sports and launch of women-centric sports.

By Geography
Segmentation of fantasy sports as per the geography is as follow:-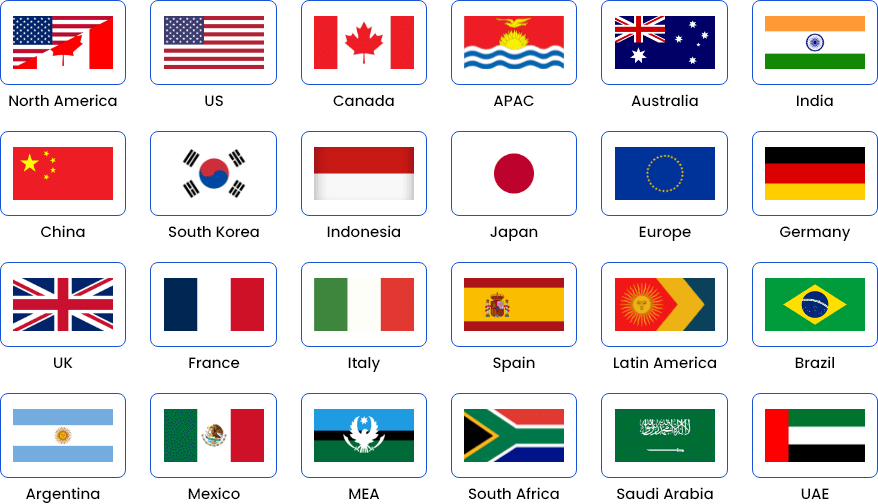 Increasing tech-savvy clients and affinity towards the fantasy sports businesses has lead to increased growth of industry in North America. The legalization of DFS format in several states of US including Indiana, New York, Vermont, Maryland, Arkansas, Virginia, etc will boost up the industry growth in forecast period. The factors such as ease in regulation, technological advancements and strategic partnerships will contribute in enhancing the market value of fantasy sports in the US. The higher inclination of people towards the different categories of sports is driving the fantasy sports market of Europe. The market of fantasy sports in Japan, India, Indonesia, China and South Korea are witnessing great surge in the demands because of higher engagements of millennials, more count of sports events and growing digitization in the developing countries. Reasonable opportunities are offered for the vendors by the Latin American fantasy sports market. Vendors have opted different strategies of marketing to develop the online platforms for catering the region's untapped audience that will lead to noticeable growth of market in the upcoming year of 2023.
How to Accelerate the Growth Rate of your Fantasy Sports Business?
How to Choose a Reliable Fantasy Sports Software Development Company?
The global market of the fantasy sports market is getting transformed from consolidated to being fragmented and thus the vendors are witnessing an array of opportunities for capitalizing upon. Vendors are also keeping their focus for maintaining the basic fan requirements including interactive user interface, security, fantasy insights, technological leverages and transparency. Further, they are also looking for expansion in new countries and the regions as per the growth of demand and they are also making a try to utilise the digital content creation that is fan-centric for capitalizing upon the rapidly growing fantasy sports market. For choosing a reliable fantasy sports software vendor, you must consider following aspects:-
Have a Fantasy Sports Business Idea in Mind & Need Technical Assistance?
Which are the Different Non-Sports Categories in Fantasy Sports?
Some of the popular non-sports categories in the fantasy sports include :-
Which are the Major Requisite Features that must be Integrated in a Fantasy Sports Software?
EXPLORE MORE BLOGS FROM VARIOUS CATEGORIES
GammaStack : One-Stop Destination for a Feature-Rich Fantasy Sports Software
All the aforementioned features are perfectly covered in the fantasy sports platform developed by GammaStack. We offer a feature-rich and futuristic fantasy sports software that is integrated with all the requisite features that can be customized completely as per the requirements of clients. Backed by a team of innovative and tech-savvy designers and developers, we are capable of offering you a feature-wrapped and state-of-the-art fantasy sports platform. We aim at serving our valuable clients with best possible solutions without burning holes in their pockets thus we follow zero revenue share policy that distinguishes us from other competitors of the industry.
Which are the popular game formats of fantasy sports?
Popular fantasy sports game formats include daily, weekly and season-long.
Which are the popular non-sports categories in fantasy sports?
Popular non-sports categories in fantasy sports include esports, politics, reality TV, celebrity leagues, etc.
Which are the necessary features in fantasy sports software?
Some of the necessary features in a fantasy sports software include:
Leaderboards
Multiple Draft Types
Live Field View
Different Game Types
Referral Bonuses
etc
Which are the different fantasy sports draft types?
Different fantasy sports draft types include auction draft, offline draft, salary caps, live draft, pick'ems, auto draft, etc.
Which is the best fantasy sports software provider?
GammaStack is one of the most renowned fantasy sports software provider which offers advanced fantasy sports platform integrated with all the necessary and ultra-modern features.
Our team has recently been informed about certain entities or persons who are doing online frauds by falsely positioning themselves as representatives of our organisation. These individuals have used different social messaging channels such as Skype for doing frauds & acquiring online payments via crypto from a few individuals. Read More..