Table of Contents:
9. New Era of Fantasy Sports Industry in 2022-23
10. How can GammaStack Help you in Breaking Nutshell of the Fantasy Sports Industry?
Fantasy sports can be defined as a kind of game involving assembling of imaginary or virtual teams consisting of the real players by the participants. These virtual teams compete against each other as per the player's statistical performances in actual gameplay. Fantasy sports gained immense popularity as a game of fun in the past years that gets played among the group of friends but it gradually caught the attention of popular names like ESPN, CNN, Yahoo, etc.
The process of selecting the real players online is known as team drafting. After drafting, compilation of the real time game statistics is done and parallels get drawn for gauging the best performing team. Players can easily track their fantasy teams through fantasy sports software or mobile applications. Participants find fantasy sports a very amazing and unique gaming concept and thus they get enticed towards it. Witnessing this immense popularity of fantasy sports among players is driving multiple entrepreneurs to invest in this lucrative industry.
Fantasy Sports Market Insights
Let's get delve into crucial fantasy sports industry statistics and insights:-

The size of the market globally was $13900 million USD in 2018 and is expected to reach $33200 million USD till 2025.
Currently the global market of fantasy sports possesses more than 80 million players and the count is rapidly growing at a rate of 30-50% every year.
In upcoming years, the market of fantasy sports is expected to reach nearly 75 to 80 million users.
In 1988, fantasy sports players count was just 500,000 which has now grown to 59.3 million in just Canada and the USA alone.
The fantasy sports users spend nearly $556 on challenge games of single player, league-related materials, league related costs, etc in just 12 months.
Fantasy sports has undoubtedly become a multi million dollar industry and a beneficial part of the iGaming eco-system.
It involves sponsorships, brand marketing, sponsorships, draft parties and so on.
An interesting fact related to fantasy sports players is that they have a FOMO that is Fear of Missing Out which compels them for spending much time, energy and money on fantasy sports.
As per FSGA, 61% players say that they stay more updated about sports due to fantasy.
New launch of products combined with convenient sources of gaming has led the fantasy sports industry to expand exponentially.
A major reason for the growth of industry is the increased convenience of accessing fantasy sports through mobile phones or desktops by the players.
Fantasy Sports Industry Demographics
Here are some crucial demographics of the fantasy sports industry as per a study in 2019:-

-50% of them are between age groups of 18 to 34
-67% of them are full-time employed
-19% of the total american participants of fantasy sports are aged 18+
-81% male & 19 % female
-47% of total players make more than $75,000
Game Wise
-78% fantasy players play fantasy Football
-39 % fantasy baseball
-19% fantasy basketball
-18% fantasy hockey
-14% fantasy soccer
-11% fantasy esports
– 5% fantasy bachelor
-13% fantasy golf
As per a study in 2017, the expenditure of an average fantasy sports player annually is on fees, research materials, parties, subscriptions, etc.
– 68% spend on league punishment
– 73% players pay for the non-cash prizes
– 84% have draft party


America is having the largest fantasy sports production with revenue market share of more than 58% in 2017 and the second largest is Europe with revenue market share of 14 % in 2017.


Estimated count of fantasy sports players in different years:-
| | |
| --- | --- |
| 1988 | 500, 000 |
| 1991-1994 | 1 – 3 Million |
| 2003 | 15.2 million |
| 2004 | 13.5 million |
| 2005 | 12.6 million |
| 2006 | 18 million |
| 2007 | 19.4 million |
| 2008 | 29.9 million |
| 2009 | 28.4 million |
| 2010 | 32 million |
| 2011 | 35.9 million |
| 2014 | 41.5 million |
| 2015 | 56.8 million |
| 2016 | 57.4 million |
| 2017 | 59.3 million |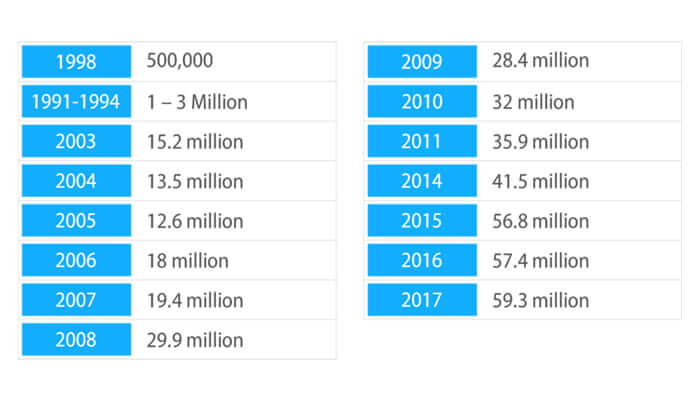 Analysis of Fantasy Sports Players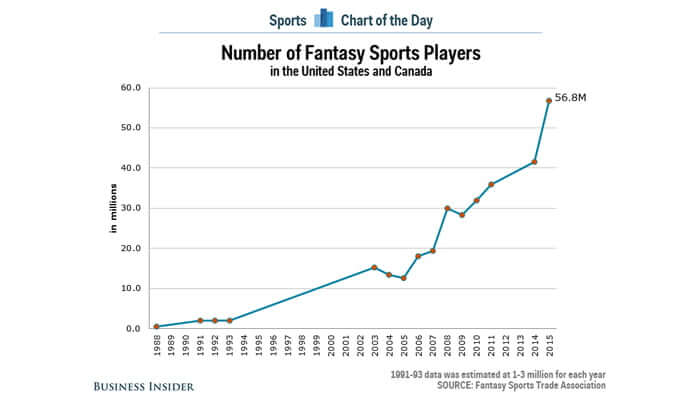 Fantasy sports players spend nearly $556 on league related materials, league related costs and challenge games involving single players in a time span of 12 months.
As per FSGA, fantasy sports players of 18+ age group spend $46 on the fantasy sports materials annually.
$4 on smartphone or tablet apps
$7 on the draft board labels
$9 on the fantasy sports magazines
$6 on draft kits or cheat sheets
$14 on fantasy sports website with premium features
$5 on the draft software
Fantasy sports players have enhanced the popularity of this industry to such a level that enterprises which have an engaging and feature rich fantasy sports software have higher chances of success.
Fantasy Sports Market Segmentation
The leading geography in fantasy sports market in the year 2019 was MEA region that was followed by South America, then Europe , APAC and North America
The North America region was expected to witness the highest growth because of factors including strong internet facility, increasing count of players, popularity of Football and much more.
Market Segmentation by Game Type:
– Fantasy Soccer
– Fantasy Basketball
– Fantasy Football
– Fantasy Baseball, etc
Geographic Segmentation
– North America – United States, Mexico and Canada
– Europe – Turkey, UK, Russia, Germany, France, Italy, etc
– Asia-Pacific – Vietnam, China, Korea, Thailand, India, Japan, Indonesia, Malaysia, Australia and Philippines
– South America– Columbia, Brazil, Argentina, etc
– Middle-East & Africa – South Africa, Saudi Arabia, Egypt, UAE and Nigeria
Importance of Fantasy Sports Software
Fantasy sports players find it convenient to opt for well-built and feature rich fantasy sports software for having a convenient and exciting gaming experience. Thus the entrepreneurs who are planning to try their luck in fantasy sports business must go for a feature rich and ultra modern fantasy sports software that can help them in engaging more users towards their business. You must ensure that your fantasy sports software is equipped with all the requisite as well as trending functionalities that make it easy for your players to use your platform and play their desired fantasy sports match in a hassle free manner. An engaging and easy-to-navigate user interface in a fantasy sports platform also brings enhanced engagement towards the platform as eye catchy UI attracts the fantasy sports players and gives them the real-time match field-based gaming experience.
Players always seek an advanced fantasy sports platform that can bring them the necessary gaming features like team drafting, payment options, etc along with the trending and enticing features like referral bonuses, achievement badges and many more.
Fantasy sports software prove to be beneficial in varying ways for varying domains:-
Sports Startups
Sports startups can opt for fantasy sports software development solutions for engaging users for their new business by offering them an innovative and all-exclusive gaming platform.

Existing Sportsbooks and Online Casinos
The existing sportsbooks and online casinos can add the fantasy sports solutions in their existing set of offerings to enhance the revenue and engagement for their business.

Media Houses
The media houses can also opt for the fantasy sports solutions to add values to their existing model and bring more engagement for their news channels.

Clubs and Leagues
The clubs can go for fantasy sports solutions for boosting the traffic and users engagement for their existing set of sports offerings.
How Fantasy Sports Mobile App can be Helpful?
Nowadays most people prefer mobile gaming for the sake of convenience as well as flexibility. Thus for every business, launching a mobile application has become a mandatory and crucial part of enhancing the business's revenue generation. Talking specifically about fantasy sports mobile app development, it can surely prove to be a beneficial aspect for boosting the growth of the business. 53% of fantasy sports players mainly use smartphones for playing and 54% of users of fantasy sports app are of age group 18-34. Thus, investing in fantasy sports mobile app development is a mindful strategy for engaging the multiple mobile using fantasy sports players for your business. You must plan an android as well as iOS fantasy sports mobile app development for bringing the benefits from the rapidly increasing mobile users for your fantasy sports business.

How to Get Started with your Fantasy Sports Business ?
To start your business journey in the fantasy sports industry, you must pay deep consideration to some of the most crucial aspects including:-

Clarity in Objective
You must have a clear objective about your business plans and goals so that you can create your business strategy accordingly. For startups or newly launched fantasy sports ventures, the main goal is getting a steady revenue generation through the business thus they work accordingly and try out every possible way of enticing users by offering them promotional bonuses, etc. But for established fantasy sports businesses, the aim is enhancing their brand presence and including the innovative and trending approaches in their existing fantasy sports business model. Thus they plan out the fantasy sports business ideas in a way that adds value to their existing system and improvises it in a way that the existing client's retention rate is increased and new clients get engaged towards their business.


Analysis of Target Demographic
Analysing your targeted demography is a crucial step as it is really vital to stay updated with the particular interests of some targeted location and devising your daily fantasy sports business plans accordingly. Fantasy sports fans belonging to some particular location may differ in terms of game types, draft types, etc from those belonging to some other geography. Thus it is really helpful for the businesses to do a thorough research and analysis about the targeting geography and the specific interests of their targeted audience.


Analysis of Targeted Age Group
People belonging to various age groups are involved in the fantasy sports world thus it is highly important to stay clear about the age group that you are targeting or the age group that is more likely to get engaged. Thus, you should do a proper survey or research about the different age groups, their specific interests in fantasy sports and what are their expectations for an exciting and smooth gameplay. This helps you in keeping your motive clear and your offerings tailored to specific needs of the target audience.


Research about the Sports you Plan to Cover
You should also research about the sports that you are planning to cover in your fantasy sports software such as the popular ones like Football, Baseball, Basketball, Hockey, etc or the unique ones like fantasy esports and many more. This makes your objective clear and makes your mindset precise about the sports specific features to be covered in your fantasy sports platform.


Opt for Reliable Data Feed Provider
Data feeds are one of the most crucial factors that contribute in enhancing the value of the platform and make it more reliable. You must opt for a trusted data feed provider who can offer you best-in-class and most suitable data feeds for your fantasy sports software. Various data feed providers are available in the market but you must ensure that you choose the most reliable one for your fantasy sports business.


Research & Opt for the Trusted Fantasy Sports Software Providers
You must do a proper research and then choose a trusted and renowned development partner for your fantasy sports business. The fantasy sports software development company that you are choosing must possess a strong team of skilled as well as technically proficient individuals who are capable of delivering you the most innovative fantasy sports software that is tailored as per your specific requirements. Whether it's about designer, developer or tester, every involved person must possess exceptional innovative and technical skills for creating an advanced fantasy sports solution.
Focus on Right Marketing Strategies
You should focus on the right marketing strategies to promote your fantasy sports platform and enhance its presence and relevance on the search engines. You must do a proper SEO for optimizing all the crucial search engine factors in your software and making it rank higher on the search engines to bring more engagement and traffic for your business.


Stay Updated with the Industry Trends
Staying updated with the trends of industry is one of the most vital aspects for any industry as it helps businesses to keep their offerings optimized as per the recent innovations and demands of the market.Thus, you should keep yourselves updated with the trending features, promotional offers and much more for keeping your platform and business on top and ahead of your competitors in the market.


What are the Necessary Features in a Fantasy Sports Software & App?
There are some crucial and trending features that should be included in a fantasy sports software and application for offering an exciting gaming experience to the users and a convenient management capabilities to the admin.


Essential Features for Players
-User Registration
The fantasy sports software must cover a common and requisite feature of user registration. This section must cover all the crucial fields of user name, contact number, email ID and other necessary details to keep you well-informed about the players on your platform.

-Game Lobby/ Dashboard
Game lobby is a part where users land as they complete the login process. The dashboard can be a simple one with simple features or can be a one with complex filters of game types, draft types, game duration and many more.

-Contests
Contests section comprises of the crucial details about the fantasy sports contest that the player is participating in. It included multiple information which can be filtered as per entry fee range, contest size, winning amount, contest type, winners count and winning range.

-Profile Settings
Your players can do the necessary settings and editing in their profile details and can also keep a check at necessary details like reward points, referrals, payment details, account details and many more.

-Leaderboards
Leaderboards perfectly display the leading players names and their winning scores. Your players can stay updated with the scores of the other leading participants through leadership boards and then plan their gaming strategy accordingly.

-Payment Options
Payment options should be secure and seamless in a fantasy sports software so that your players can carry out the transactions in a safe and convenient manner. Integrating major cryptocurrencies support in the fantasy sports platform adds more value to it.

-Game Types
A variety of fantasy sports game types must be covered in a fantasy sports software including stock market games, oppo-picks, predictors, over-under and many more which keeps the players enticed towards your fantasy sports platform.

-Draft Types
Multiple engaging as well as custom draft types should be covered in a fantasy sports software for making the team drafting process easier for your players. Popular draft types include auction drafts, offline drafts, quick drafts, pick'ems, auto draft and many more.


Essential Features for Admin

-Dashboard
Admin dashboard enables the admin to stay updated with the important game analytics and access various statistical figures related to count of played matches, total players, total earnings and many more.
-Report Management
The report management feature enables admin to access various crucial reports including player scores report, transactions report, game analytics report and many more.

-Responsible Gaming
Admin ensures that the players on the platform are having a safe gaming experience by keeping them updated with the responsible gaming guidelines, age restrictions and other important information.

-User Account Management
This feature enables the admin to keep a complete control over the users account and provides the rights to edit, delete or deactivate the accounts. Admin can manage the entire account of the users.

-View Earnings
The admin can also stay updated with the earnings of every player participating in various contests on the fantasy sports software. Admin can view earnings of players in specific matches and their net earnings.

-Contest Management
This feature is used for managing various ongoing contests on the fantasy sports platform and enables admin to easily manage various categories of contests, do addition, deletion, deactivation or edition in the contests if required.


New Era of Fantasy Sports Industry in 2022-23
As per a recent study, in the upcoming 5 years, the market of fantasy sports is expected to witness an increase of 13.24% in revenue terms. Witnessing the facts and figures in the recent surveys and researches gives us a clear idea about the scope of the daily fantasy sports industry in the near future. The market of fantasy sports is surely going to mark a great upsurge in terms of revenue as well as count of users in the next few years. People are getting more engaged towards fantasy gaming as they find it more exciting and unique than other available options. Thus investing in the fantasy sports industry will be definitely a profit boosting measure for you as an entrepreneur.
Witnessing the COVID-19 pandemic crisis in 2021, it is essential for the new as well as existing fantasy sports businesses to include something engaging as well as innovative in their set of offerings. You should opt for the fantasy sports platform that not only supports major popular sports but is also integrated with exciting game types such as :-
Esports
Fantasy Celebrity Leagues
Political Events
Stocks and Forex
and many more.

How can GammaStack Help you in Breaking Nutshell of the Fantasy Sports Industry?
GammaStack is a well known iGaming software development company that offers multiple innovative and ultra modern iGaming solutions including sports betting software, fantasy sports software development, esports software, online casino software and online lottery software. When talking about their fantasy sports software development solutions, we have a higher level of expertise and experience in delivering ultra-modern white label as well as custom fantasy sports software solutions that can take your fantasy sports business to success heights. Our team brings out the most innovative as well as market-specific approach for delivering you an advanced and feature rich fantasy sports website along with an engaging and brand specific user interface. We cover all the trending and popular sports and necessary functionalities such as draft types, leaderboards, fiat & cryptocurrency payment options, referral bonuses, dashboard, achievement badges, game types and much more in our fantasy sports software.
Sources:-
Industry Demographics
https://www.ibisworld.com/united-states/market-research-reports/fantasy-sports-services-industry/
https://www.businesswire.com/news/home/20200217005350/en/Global-Fantasy-Sports-Market-2020-2024-Launch-Apps