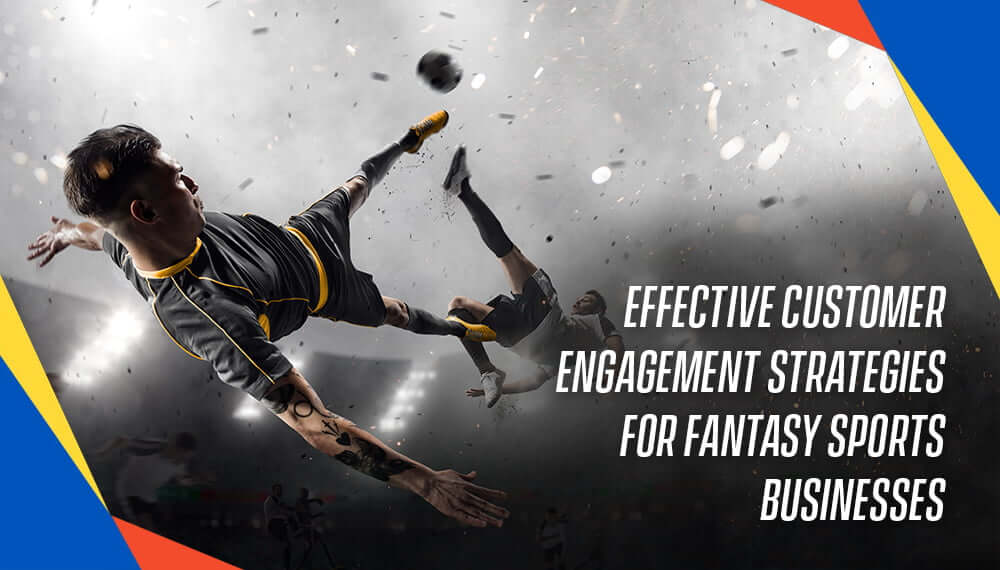 It doesn't take much time for customers to cut ties with one fantasy sports business and move on to another. One wrong step and you might end up losing some of your most loyal and precious customers. Hence, every fantasy sports software owner in the iGaming industry strives to avoid all the possible red flags because they know the consequences.
But it's not always about the things that fantasy sports businesses avoid. Sometimes, it's something they are doing, but half-heartedly. Sometimes, the answer lies in the fantasy sports customer engagement strategy.
The competition is tough and businesses have rolled up their sleeves. Everyone out there claims to provide the best products, the best experiences, and the best services. But even the best of the best fall short when it comes to keeping their customers hooked to their business. And the question you need to ask yourself is — How do I increase customer engagement in fantasy sports?
Finding new ways to keep your customers engaged could be a daunting task. But it's not even that hard. All you need to do is create and deploy some effective customer engagement strategies. What are those? This blog is all about them! Read on.
Fantasy Sports Customer Engagement Strategy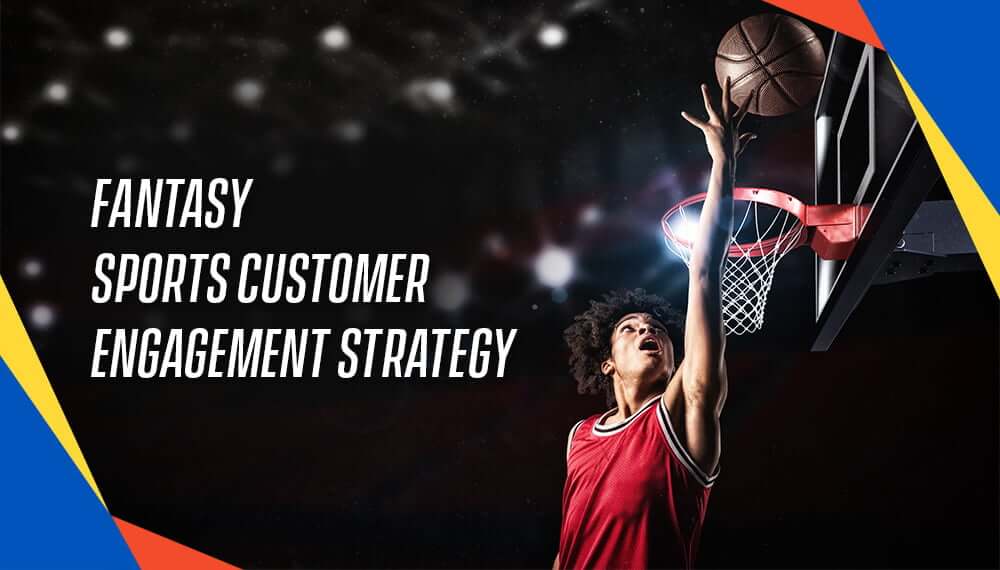 Below are some of the most effective strategies that you can use to increase customer engagement on your fantasy sports platform significantly.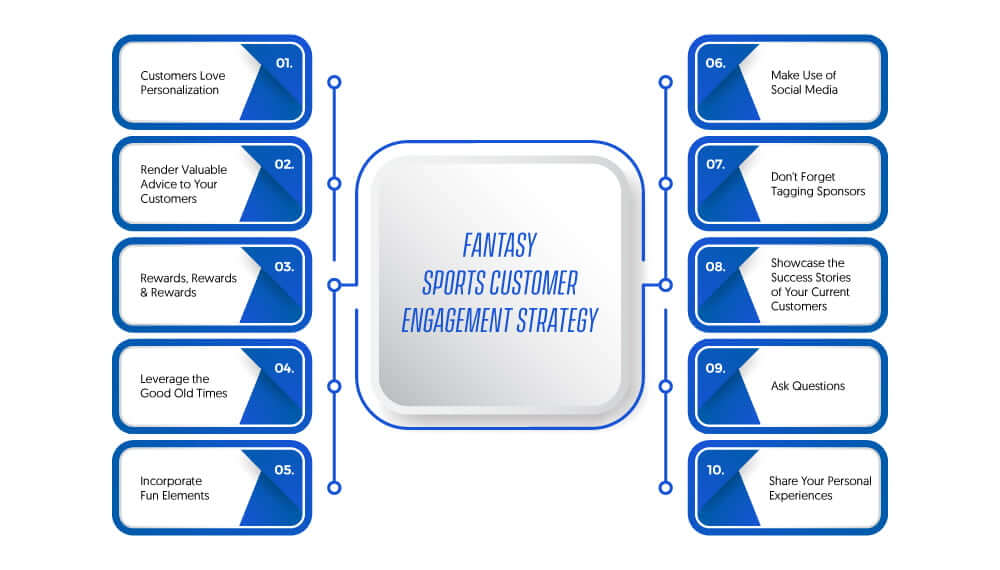 1. Customers Love Personalization
How well do you know your customers? Do you use a generic email template for all of them? Or do you go the extra mile to make it more personal? Personalized emails enable you to connect with your customers better. Why? Because it lets them know that you care about them, their preferences, their experiences, and so much more. Now, it might require you to invest a bit more time and budget, but of course, in the end, it's all worth it. How? Your customers start noticing you, differentiating you from others, and you start standing out. So what can you do to make it more personal? Discounts and offers on special days, recommendations according to their preferences, bonuses to help them a bit extra, etc. Small steps can make massive differences.
2. Render Valuable Advice to Your Customers
Customer engagement in fantasy sports plays a key role in the success of any fantasy sports business. And the most engaging content is helpful content. The kind of content that delivers the most value to your customers. Players usually analyze games and players that enable them to choose the best players for their line-ups. The more insights you share about games, players, playing styles, etc, the more helpful it is for your customers. Also, this kind of content attracts massive readership as it aligns smoothly with the audience.
3. Rewards, Rewards & Rewards
Everyone loves a hidden surprise. And when these surprises and rewards get paired with actions inside fantasy sports software solutions, customers get used to taking action. This also enables fantasy sports operators to increase the time customers spend on their platforms. In addition to this, customers also make repeat purchases, which helps in increasing the overall revenue. Regular customers can be observed coming back for more discounts, bonuses, coupons, and offers. This not only allows you to keep your customers engaged but also allows you to increase your profits and sales effectively.
4. Leverage the Good Old Times
Some players never get old. They always have a special place in their fans' hearts. You can use images of old players to create nostalgic posts and attract your customers. To make it more engaging, you can form questions around them, take pools, use catchy hashtags to promote your cause.
5. Incorporate Fun Elements
Incorporating fun elements into your daily fantasy sports software can be a gamechanger for your fantasy sports customer engagement strategy. You can include various quizzes, quick games, surveys related to products, and prediction games. Want to amp up the engagement a bit more? Offering rewards to the game winners and survey takers can help you do the trick.
6. Make Use of Social Media
Your strong online presence contributes to trust and credibility. When customers understand that you are everywhere, on every platform, and more importantly, you can be approached via various channels, customers begin to trust you. The followers of your page or your content also enable you to acquire new followers and content consumers. The diverse social media channels also help you increase your brand awareness and recognition while enhancing your marketing efforts. Also, these can effectively help you engage and retain your current customers.
7. Don't Forget Tagging Sponsors
The big fantasy sports businesses in the industry know how to deploy this effective customer engagement strategy. For example, when Draftkings creates a Twitter post, they ensure they tag their sponsors. Their sponsors also have more than 100k followers. Doing this helps them reach more people and increase customer engagement in fantasy sports significantly.
Looking for a Team of Technically
Sound Mobile App Developers
8. Showcase the Success Stories of Your Current Customers
You can use your various marketing channels to showcase what your other customers are doing right and how they are using your daily fantasy sports software. You can do this via testimonials, tips and tricks, short video interviews, etc. These small steps help in increasing customer engagement effectively as people can relate to the experiences better.
9. Ask Questions
Polls and questions have become the best ways to hike up your social media engagement as well as traffic. These might seem easy and pretty basic too, but it works wonders. If your questions stir up debates, excite audiences, and increase engagement, then it simply works for you. You can choose from various topics, form questions on previous matches, take polls on players and do so much more.
10. Share Your Personal Experiences
What engages the most? Stories. And telling compelling stories about your fantasy sports business can help you connect with your customers in a personal and emotional manner. You can share how your entrepreneurial journey started, the backstory of your fantasy sports software, personal stories of your employees, your work culture, the perks your employees get, etc. Doing this will help you create a solid image of your fantasy sports software for your customers to see and will enable you to engage your customers effectively.

An effective fantasy sports customer engagement strategy can be the key to hiking up sales and profits. And the above-listed strategies will help you achieve your engagement goals. While some of these require you to increase your budget, some simply require enhanced efforts. You can choose a few of these to get started while exploring the rest to see what works for your business and your customers.
EXPLORE MORE BLOGS FROM VARIOUS CATEGORIES
Want to Start a Successful Fantasy Sports Software or App?
GammaStack is the ideal choice. At GammaStack, we provide you solutions that come with all the latest and robust features and tools, that enable you to entice your customers while simplifying the overall management. Our team of highly creative designers and skilled developers design and develop fantasy sports software solutions as per your specific business requirements.
In our 8+ years of industry iGaming experience, we have enabled several fantasy sports operators meet their business goals. And now, you can also leverage our services to accelerate the success of your business.
FAQs on Fantasy Sports Software
Do you also provide ready to launch white-label fantasy sports software solutions?
Yes, at GammaStack, we provide you white-label fantasy sports software solution.
I have a unique idea for my football fantasy sports software. Can you develop it into a software?
Yes, we can develop a custom football fantasy sports software solution as per your needs and requirements.
Do you also provide marketing services for the promotion of fantasy sports software?
Yes, to ensure the success of your fantasy sports business, we provide you marketing services that allow you to gain customers quickly.
Do you also provide fantasy sports software for politics, stock market, celebrities and esports?
Yes, we provide fantasy sports software solutions for all the above.
Does the daily fantasy sports software solution provided by you receive data in real-time?
Yes, our fantasy sports software solution receives data in real-time.