COVID-19 Impact on iGaming Industry
Covid and iGaming industry
With COVID-19, we have entered into a virtual world where everything matters but is unreal. The world has witnessed a whopping increase in the number of online players and gamblers across the globe. Undoubtedly, the iGaming industry has suffered a lot with the cancellations of events and scheduled matches. And is still struggling hard to not succumb to the impact of coronavirus.
Big sporting events including NBA, MLB, US PGA Tour were cancelled which gave a jerk to the iGaming players. Cancellation of major and minor events, sponsorships and much more made iGaming businesses hit the rocks.
Click here
to know all the sports events that got cancelled.
The return of EURO 2020 has given hope to both the industry and to the players. London-based Entain, in its report, said that it has received 1.5 million bets on EURO 2020 with more than half of the stakes coming from British gamblers. There were a total of 47% bets from fans all over the world for which country will win the title. As the sports data company predicted that there will be 3 million bets altogether for Euro 2020, betting enthusiasts didn't fail to keep the expectations high.

The below image from FanDuel represents the odds in European Championship 2020 for the nation to win hence marking a beginning to the uninterrupted and never-ending gambling activities across the globe.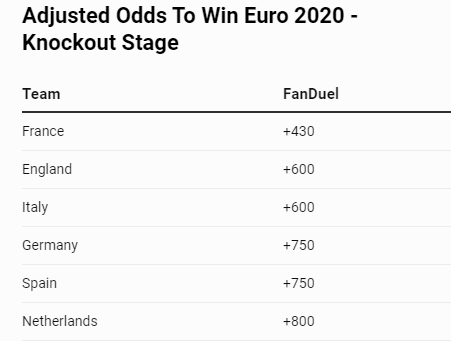 As of now, #itscomingrome is trending on Twitter as Italy won the Euro Championship 2020 and England disheartened many hearts in the UK.

Well, it's definitely a sign of new beginnings that enlighten the ray of hope to the gamblers with Euro 2020. Listed below are the stats for the sports betting industry for the past years.
According to American Gaming Association, the sports betting industry in the US alone has generated revenue of $1.5 billion in 2020 taking a jump by 69 percent.
DraftKings' revenue soared to $644 million in 2020, up 49 percent from the 2019 total of $432 million.
In the year to date, $29.4 billion of video games have been sold in the US - a 23% increase from the same period last year reported by weforum.
Online casino games including blackjack and slots have generated triple the revenue in the first quarter of this year as the same period last year.
The Ohio government passed a bill to legalize betting in online casinos, bars and restaurants in the states making a total of 50 states where betting is legalized.
List of upcoming events that are going to take place this year that got cancelled due to COVID-19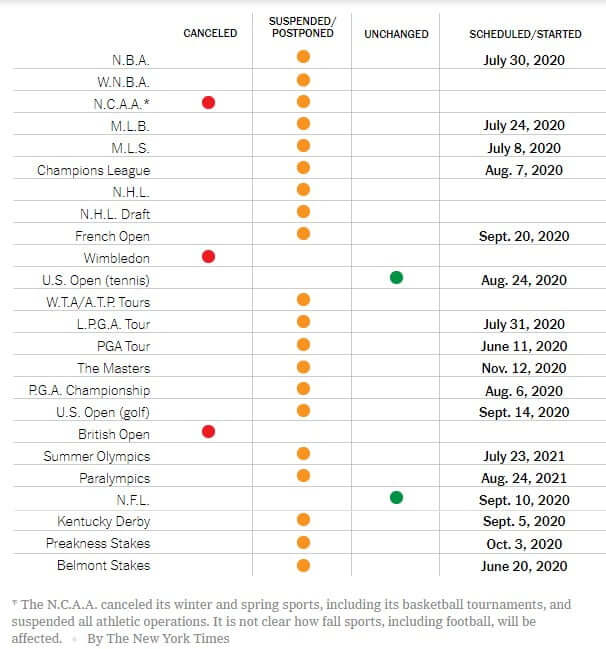 Image source: The New York Times
The Physical to Digital Shift
Fantasy sports stood as a backbone to the iGaming industry as we have seen a monumental shift from physical to digital sporting activities. And needless to say, that pandemic has accelerated this growth. They can win huge rewards and money from the comfort of their home. These online activities will continue to grow post-pandemic as people are also evolving with the industry.
Online Gaming and Gambling A report generated by Statista on 3rd June'21, says that the global spending on online gaming has increased significantly especially during the months from February to April in 2020. When it comes to online gaming Gen Zs can't be left behind as their time on mobile gaming has increased too, although there were different patterns were seen for different countries.

Coming down to spendings on game content and paid downloads, Statista reported that both have increased by 12 and 21 percent respectively in 2020. Although gaming companies have witnessed a downfall in the sales for video games as gaming enthusiasts are more and more interested in participating in online gaming content and in-game services.
During Lockdown In a global survey, respondents said their time has increased by 30 percent in playing fighting video games. While Latin American gamers reported a hike of 52 percent for their time spent on video games whereas 62% percent of the UK adults players said they played video games during the lockdown. Games connect people and undoubtedly 49 percent of Europeans said that online gaming has helped them stayed connected with their friends during the pandemic. Most all the multi-players felt happier and less isolated as online gaming remain a point of connection between gamers and other gamer friends.

Increase in time spent video gaming during the COVID-19 pandemic worldwide as of June 2020, by genre, Chart from Statista.

Popular Games During Pandemic So, you might be wondering what were the games that keep players engaged during the lockdown period? Well, there were many that kept people entertained, but to point out a view, here are the online games that were widely played during the lockdown:

Animal Crossing: New Horizons became popular in its first week of launch and so far 32.6 million lifetime sales have been made.
Mario Kart Live: Home Circuit
I am Dead
Fall Guys: Ultimate KnockOut
Fortnite had several live-in concerts attended by millions of fans And many others.

Live Streaming Platforms Popular live streaming platforms like Twitch and Youtube has surpassed 1.2 billion content views in 2020, up from 944 million in 2019. As compared to 2019, Twitch viewers watched twice the videos in 2020 which is over 1 trillion minutes of videos. Pandemic proved to be new opportunities for live streaming platforms to reach new content viewers by creating new videos. Currently, there are 9.36 million streamers in April 2021 while the number was no close to 3.9 million in January 2020.

Most popular platform to watch live streams according to gamers in the United States as of February 2021. Chart by Statista.

Mobile Gaming & Social Apps All we are talking about is gaming and gambling, so how can mobile gaming be left behind the race. According to a report by Unity, mobile gamers are seen installing 84% more apps in 2020 than in 2019. Therefore, mobile gaming proved to be a record-breaker in the pandemic.

Image source: Unity
Social media apps timing and installations too increased during the pandemic as they shared their house activities with their friends on different networking sites. Social gaming sites reported total gaming traffic increased by 83% which itself is a huge number and it is clear that social networking and gaming sites are skyrocketing in pandemics.
According to Statista, around 40 million people alone play fantasy football around the world which itself shows how people are taking interest in online sports activities rather than offline events. In 2020, North America was the most prominent country for the fantasy sports market as it shared 68% of the total revenue for the year 2020. With the immense production of cheap high-fidelity mobile phones, it is expected that there will be more and more fantasy game players not just from the U.S but from other APAC countries including China, Japan and India.
As per Insider Intelligence, the total esports viewership is expected to grow at a 9% CAGR between 2019 and 2023, up from 454 million in 2019 to 646 million in 2023. With the growing pop-culture and live streaming channels including Twitch and Youtube, esports is given a new dimension as the fans can directly connect to their favourite team players. It is predicted that esports will not only give rise to new ideas of game playing but also can be a challenging ecosystem for other gaming industries as well. With the advancement in technologies and proliferating esports teams, we are expecting tremendous growth in the esports industry.
What is the future of iGaming?
Responsible Gambling During the pandemic, there were cases reported that people were so dependent on betting as their income that they suffered financial crisis as there were no events. On the contrary, online casinos have also reported that people having betting gambling so rigorously that they been left bankrupt. Thus, sports betting companies are paving the way out for responsible gambling to offer their players.
Innovation & Technology While the world is still recovering from the drastic impact of coronavirus. The online gaming and entertainment industry is evolving with innovation and technology. With the growing trends in technology that includes virtual gaming, mobile gaming, gaming consoles and much more, the iGaming enthusiasts are clearly going to set the new trends with online entertainment.

As far as sports betting is concerned, it will likely grow in the coming years as the sporting events will begin. Well, people have started to place bets not only just on sports but on different scenarios including president elections, movies, T.V series and much more. So, the pandemic has altogether given a new dimension to the businesses to create odds among different parameters.
Also read: Scope of Sports Betting in 2021
The entire iGaming industry is expected to grow in 2021, hence it can be a huge opportunity for both existing operators and entrepreneurs to make a profitable business. As world-class sports betting software providers, we have seen the stats and trends in the iGaming industry, hence we can see a bright future of the industry. And we are looking forward to catering businesses and entrepreneurs that are planning to launch their own betting platforms and iGaming software solutions.
GammaStack is the preeminent sports betting software development company that provides end-to-end iGaming software development services to businesses around the globe. Equipped with 8+ years of industry experience we have helped businesses to thrive successfully with iGaming solutions. From sports betting to fantasy sports, esports, lottery and online casinos, we have got you covered with our feature-rich quality software solutions.


For enquiries: [email protected]