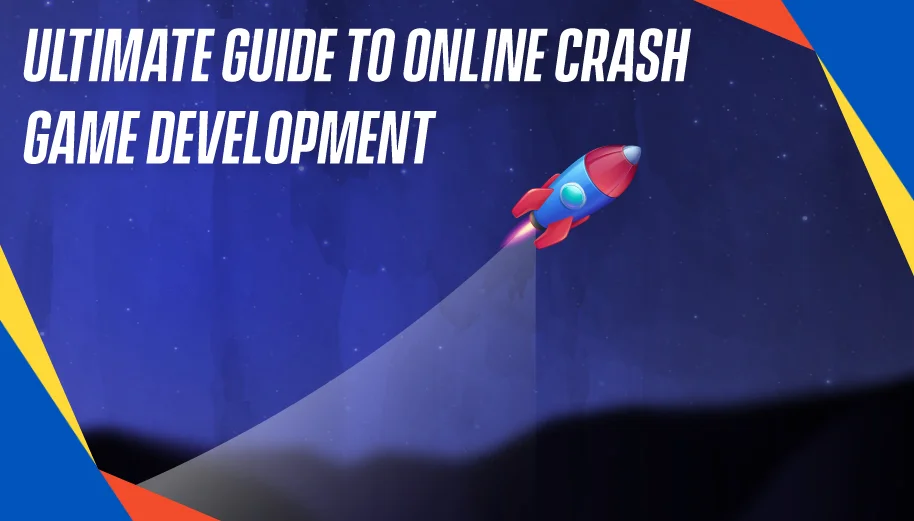 The global gaming industry has a pace of its own. Swift and ever evolving. One game makes it and gets replaced by another game quickly. Every single month, plenty of games get launched with the hope of capturing players' attention, and fight to get to the top of everyone's list. Online mini casino games are no different. There was a time when slots were considered most popular among gamblers. Slots are still considered every gambler's first preference, but there is another game that's making all the headlines in the online casino industry. Crash has become one of the most-talked about games of the
online casino industry
. And if you haven't heard about Crash till now, prepare to hear about it for the coming months and years. Crash games have quickly risen to fame and have become the main attraction of every crypto casino. No wonder, every mini casino operator wants to get this game on their platform.
The game of crash is simple. The game involves a multiplier, which increases steadily till it suddenly stops or in other word, "crashes". The punters place their bets on the size they feel fit. There is only one catch. Before the multiplier crashes, the player needs to cash out. The game of crash is completely random. And since the Crash game is provably fair, the randomness of the outcome can be verified by the punters with the help of simple algorithms.
Why Online Crash Game is Popular
Crash game is loved by punters world wide due to its fast paced nature. But, there are plenty of other reasons why gamblers admire and adore this game so much. Let's take a look at them one by one.
Fast Paced
Not all gamblers are looking for some high-strategy game that comes with complicated rules and requires plenty of patiences. Punters today are more inclined towards gambling on the go. The fast-paced nature of crash makes it the perfect fit for punters looking for some casual gambling. It's quick and doesn't come with a bunch of complex rules.
Better Payout
No risk, no reward. Various online casino games follow this particular philosophy. But it's not true with Crash. Crash offers better payout at lower risks. Anyone can place a wager and expect to win. Another reason for punters to love crash.
Small Bets
Unlike other gambling games, Crash is one the games that allows small bets for large sums of money. Hence, crash is extremely popular among people who don't want to wager big and do not have rich financial backgrounds. And at the end of the day, everyone wants to make money.
Want To Know More About Online Crash Game Development
Types of Online Crash Game Development: Which One is Right For You
Online Crash software development can be broken down into two parts — ready to launch and custom. Let's take a deeper look at both.

Ready to Launch Crash Game
As the name implies, ready to launch crash games are ready made crash games. These get ready for deployment within a couple of weeks after branding, customizations, and testing. Operators can choose from white label and turnkey crash games.

Custom Crash Game Development
If you have a unique idea or vision for your Crash software, custom crash software development is the perfect choice for you. You can look for vendors that provide end to end Crash gaming development services as well as post launch services. The best thing about custom Crash development is it helps you stand out and cut through the clutter seamlessly. It gives you more control as well as freedom to bring your vision and ideas to life.
Choosing a Crash Game Provider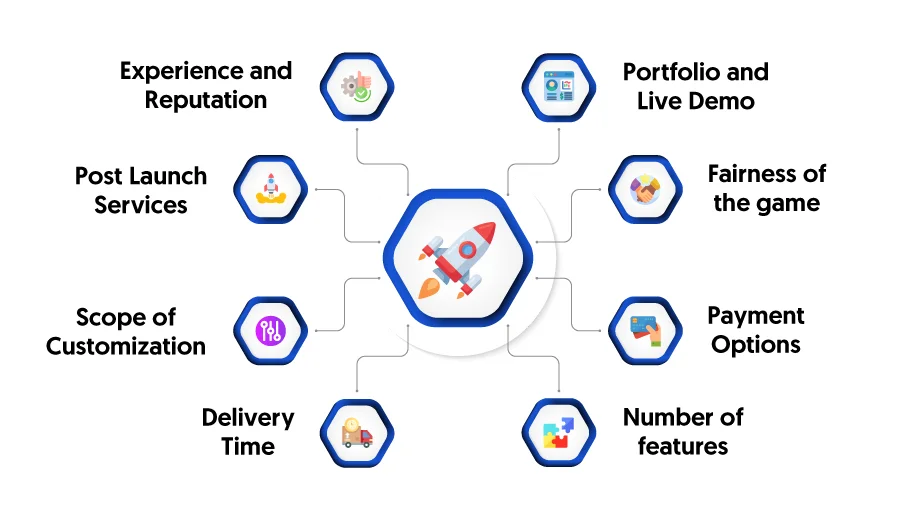 You'll find several crash game developers and providers with a simple Google search. Yes, it's that simple. But is that enough to get a good game provider? Does that guarantee an innovative crash game development solution? There are a few things one should keep in mind before choosing their Crash game provider.

Experience and Reputation
Experience and reputation are two most important factors everyone must consider before picking their crash online casino game providers. There are several vendors that are new in the industry while there are also some that have been around since decades. One can easily verify the experience of their past customers on various business software reviews websites. Make sure before choosing, you do your research and explore their clientele. Also before choosing, ensure they have an in-house team of crash game developers and designers for end-to-end development.

Portfolio and Live Demo
Another crucial factor. It's important to take a look at their past work and the kind of games they have developed. Go through their Crash game design. Also, asking for a live demo gives you a better idea of the overall visuals, graphics, sounds, gaming experience etc.
Fairness of the game
Your customers need to trust you if you are in the gambling industry. The games you offer need to generate fair and 100% unbiased outcomes. And hence, the Crash game needs to be RNG certified. RNG certified games are known for their fair nature and also help you stay transparent with customers. Make sure the game you are choosing is RNG certified.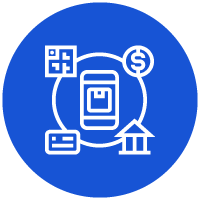 Payment Options
Payment options differ from customer to customer. Some prefer debit cards, some prefer credit cards, some prefer cryptocurrencies, some prefer bank transfer. Having enough payment modes will help you cater to the needs of your punters seamlessly. Hence, make sure your vendor helps you get all the payment options you think your customers will need.

Number of features
The number of features help you stay ahead of the competition. And every cutting-edge online crash game software development arms you with all the essential features required to keep your customers engaged. Make sure your provider delivers you all the critical features as well as features required to boost engagement and participation.
Delivery Time
Every business has a vision as well as timelines. And there is a right time to launch business in the market. Seasoned teams of professionals always respect the timelines provided and deploy a well developed and well tested software on time.
Scope of Customization
Does your Crash casino game provider specialise in providing custom games? Or they provide ready to launch games. If yes, what's the scope of customization in ready to launch software solutions? Getting answers to all these solutions is crucial.
Post Launch Services
Most Crash casino game providers stay with you till deployment, but after that, you are on your own. And then you need to move on to another service provider which only adds to technological challenges. Hence, choosing a provider that also specialises in providing post launch services is critical. These services include customer support, updates installation, maintenance services and marketing support.
Must Have Features of Crash Game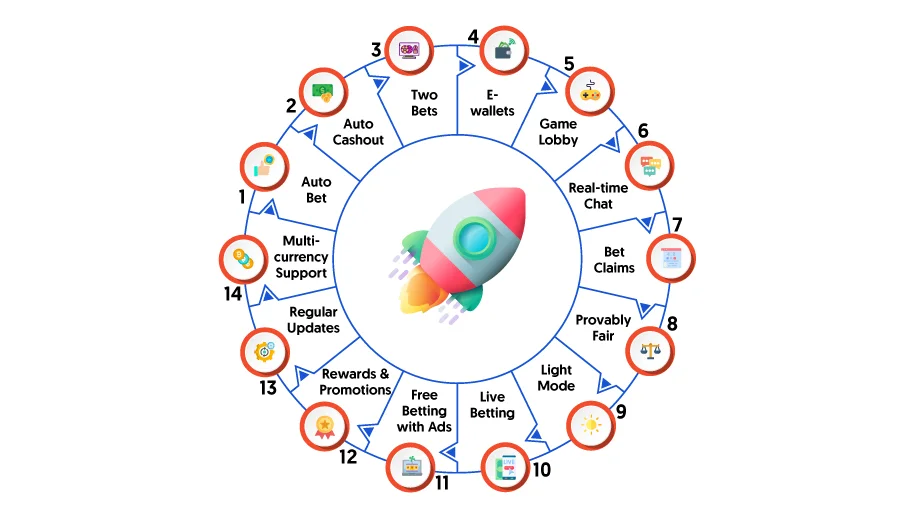 How can you surpass your competitors? How do you succeed in a competitive market where almost every online casino is offering a crash game? The answer is simple. By offering a Crash game that's better in terms of experience, graphics as well as features. And this list is all about features. Let's take a look one by one.
AutoBet
Your punters can take help from the system to make bets. Auto bet, as the name suggests, does just that and helps players automate their bets.
Auto Cashout
Once your customer wins a bet, the money won automatically gets added to their E-wallet, without making the manual effort. This allows the customers to keep track of their wins, while they focus on their game.
Two Bets
Another great feature to have in your Crash game development solution. Two bets is a great feature for gamblers who want to double the fun. Two bets enables punters to place two bets in one single round of Crash.
E-wallets
E-wallets help your customers make deposits and withdrawals without any hassle. These also allow your customers to keep track of their winnings.
Game Lobby
Customers need to wait before the game starts. Game lobby is the perfect solution to keep them engaged. This allows customers to meet other punters and socialise while waiting.
Real-time Chat
Real-time chat is ideal because it eliminates the wait time. This is a must have for your Crash development if you are looking to engage customers. Gamblers send a message to other players and get a response in a snap. This also allows to add a social aspect to your Crash casino game and enables you to boost engagement effortlessly.
Bet Claims
Another great feature you can leverage. Bet claims help you slip some free bets in your customer's chat for them to claim later. This translates to more playing time, increased engagement as well as participation.
Provably Fair
Why do customers love provably fair games? Because the randomness of the outcomes can be verified. There is a belief among several gamblers that RNG based games are rigged. And that's where provably fair games come in. These clearly have an upper hand as compared to traditional RNG based casino games.
Light Mode
Light mode is crucial. Why? Because your games are played by people all around the world. Even by people who live in low bandwidth and connectivity areas. Hence, light mode helps in delivering seamless and uninterrupted experiences to customers who do not have access to high speed internet.
Live Betting
Live betting helps you customers to wager on real-time events. This is one of the most loved bet types which makes a must have for your crash casino game.
Free Betting with Ads
Customers love free bets. But then, how do you generate revenue? This is where free betting with ads comes in. This helps your players play for free while you generate significant revenue by showing ads. It becomes win-win for both parties.
Rewards and Promotions
Who doesn't like rewards and promotions? Everyone likes a bonus once in a while. Rewarding and promoting your punters not only allows you to boost engagement but also helps you retain your customers better.
Regular Updates
Staying updated in the field of gambling is important. And hence, regular updates become important. You can send your customers updates in real-time without any hassle and help them make better decisions.
Multi-currency Support
Some prefer Fiat and some prefer cryptocurrencies. The preference varies. And hence, support for both becomes crucial. If your Crash software supports both, you automatically take a step ahead of several operators that only rely on cryptocurrency.
EXPLORE MORE BLOGS FROM VARIOUS CATEGORIES
How GammaStack Can Help You With Crash Software Development
GammaStack is one of the reliable and esteemed Online
Crash game development
service providers that has equipped several businesses worldwide with feature-loaded crash games. Not only do we provide you advanced crash games that deliver outstanding gambling experiences to your customers, we also provide all the critical features required to boost customer satisfaction, engagement and participation. Some of our key Crash games offerings include Crash game, Aviator crash game, Balloon crash game and Football crash. Along with ready to launch Crash games that come with a huge scope of customizations, we also specialise in providing custom crash game development services. Apart from these, we also offer post launch services such as maintenance services, marketing assistance, updates installation and customer support. And once the game gets launched, we hand over all the rights of the game and users to our clients.
FAQs on Crash Software Development
Do you follow a revenue sharing model?
No, we follow a no revenue share model to ensure you make and keep your maximum profits.
Who gets the ownership of the game?
We handover the complete ownership of the Crash game to our clients after deployment.
What crash game variations do you provide?
We provide balloon crash game, aviator crash game, and Football crash game.
What rights do I get once the game gets deployed?
After deployment, we transfer you complete rights to the game and customers.
What key features come included with your online crash game?
Some of the critical features include auto cashout, autobet, E-wallets, two bets, game lobby, regular updates, rewards and promotions, live betting, light mode etc.
Can you help me with the development of my unique idea of Crash game?
Yes, with our custom Crash casino game development services, you can get your unique idea developed.
When can I expect the launch of the ready to launch game?
Our ready to launch Crash casino game gets ready to go live within two weeks after customizations.
Our team has recently been informed about certain entities or persons who are doing online frauds by falsely positioning themselves as representatives of our organisation. These individuals have used different social messaging channels such as Skype for doing frauds & acquiring online payments via crypto from a few individuals. Read More..