How you can promote your raffle contest effectively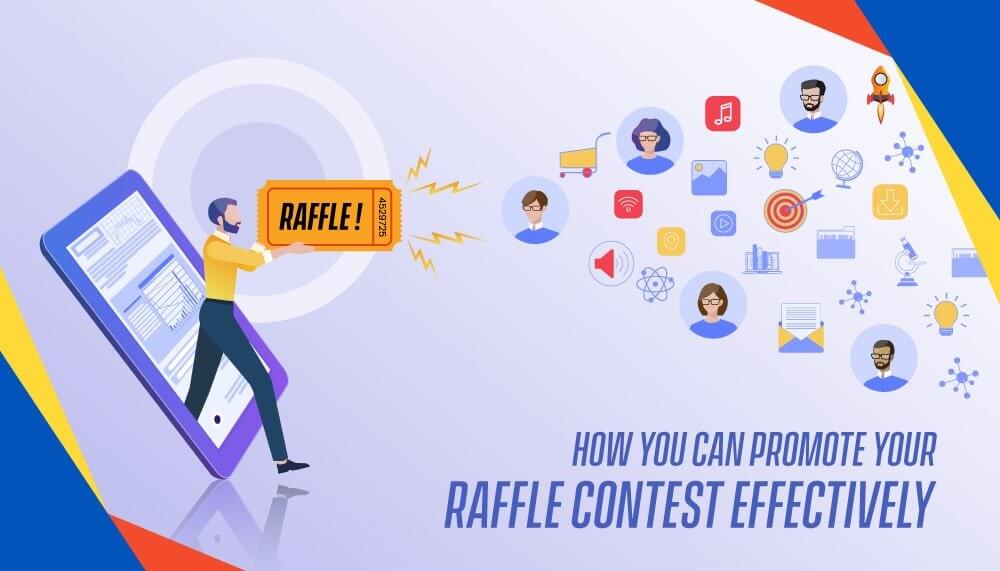 In the past 2 years, online raffles have gained immense popularity. The COVID-19 Pandemic was another contributor to the fame of the growing industry. Raffles quickly became an effective tool when it came to raising funds for a COVID care, treatment, vaccines and much more. And today, raffles have become mainstream.

Raffles are great for organizations that want to raise funds and establish long-lasting relationships with their patrons. But, it's not that easy. Anyone can create a raffle online, but the key to success lies somewhere else. Your raffle marketing strategy is one of the vital aspects that contributes to the success of any raffle contest. Your detailed marketing strategy for raffle and your efforts in the right direction are directly proportional to the success of your raffle contest.

Hence, in this blog, we are going to cover all the ins and outs of what it takes to host a successful raffle contest. Planning a raffle event soon? Read on!
Before we jump into all the marketing tactics on how to promote a raffle contest, doing the groundwork is important. Laying a strong foundation is as crucial as the strategies you'll deploy. These steps will help you form a strong base for your marketing strategy. Let's take a look at them one by one.
Know Your Audience Before you start Googling how to organize a raffle contest, or how to sell raffle tickets, make sure you Google about your target audience. The first rule of effective marketing is to know your audience. Gaining insights about your audiences will give you access to their preferences, their pain points, their expectations etc. Ultimately, this will help you understand what type of audience is more likely to participate in your raffle event. Knowing your audience is half the battle and it's one of the most successful raffle tips we can offer you.
Use Your Assets What mediums would you like to use for your raffle promotion? Online or offline? How much are you willing to spend? What teams would you like to get involved in your campaign? What's your raffle ticket pricing strategy? What raffle ticket sales ideas do you have? In what events are you willing to promote your raffle event? Do you have a raffle page? Are you planning to create one? Proper planning, knowing and using these assets can add to your advantage and help you promote your event effectively across multiple channels.
Outline Goals What are your goals? How much funds are you willing to raise? How many participants are you expecting? How many tickets are you expecting to sell? Outlining goals will help you gain clarity and will allow you to set realistic expectations for your raffle promotion.
Choose Your Marketing Channels This will be one of the most important aspects of your marketing strategies for raffle. There are several marketing channels you can choose from. Email, website, your raffle page, events, social media, google ads etc. You can use one or more of these, depending on your needs, your target audience and your budget.
Schedule the Selected Channels Timing is everything. Even in marketing. Hence, scheduling your channels on the basis of objectives can help you maximise the efforts of marketing. We recommend scheduling your channels before your raffle event, after launch, when the fundraising starts gaining traction, when the raffle is about to end and when the winners are declared. Last but not the least, don't forget to thank your supporters. Being cautious of timing is one of the successful raffle tips.
Effective Ways to Promote Your Raffle Events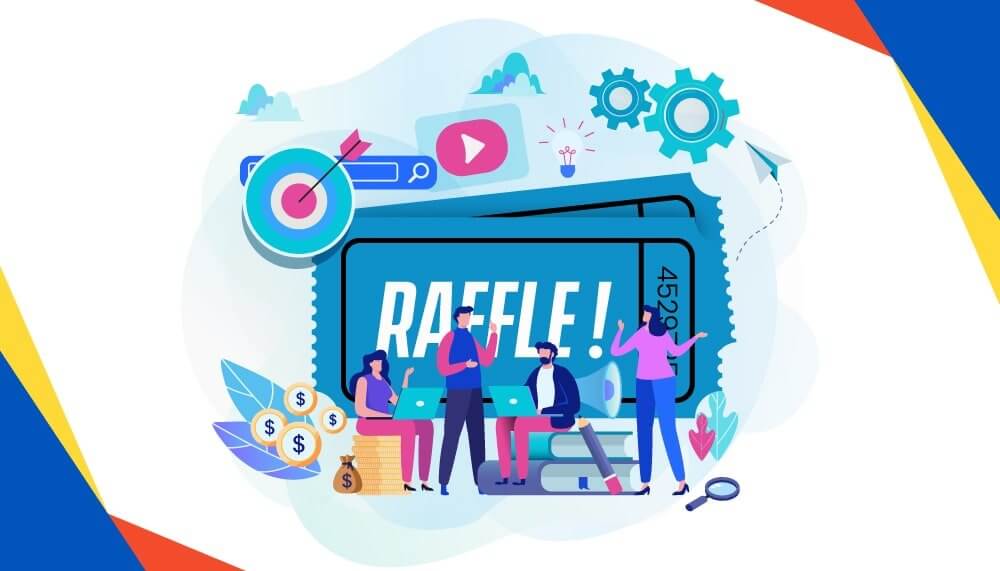 Effective Ways to Promote Your Raffle Events The best part about raffle marketing strategy is that there are several channels you can leverage as per your goals and requirements. You can choose a few of these or all of these. Each and every one of the below channels renders you certain types of benefits for a certain type of target audience. Let's look at these one by one.
Newsletters Newsletters are a great way of engaging your audiences and keeping them informed. Planning these in advance and sending them at the right time can help you boost your participation in your raffle contests. If you already have a large mailing list, you can use it to your advantage to give a boost to your raffle marketing strategy. Make sure the design you use is clutter-free, and clean. Images, call to actions, slogans and stories can help you leave a memorable impression on your customers.
Social Media Anyone can create raffle online, but promoting it is real work. Social media can prove to be a great tool for raffle contest promotion. It could be a gold mine of opportunities. The biggest plus? On the basis of the social media platforms, you can segregate your audiences and spread your message better. Make sure you make use of attractive graphics, catchy hashtags, attractive banner images, and clickable links.
Websites Owning a website could be a big advantage for your raffle marketing strategy. You can use banner images, add information, create attractive GIFs, to educate your audiences about your raffle event. You can also make these clickable and redirect your visitors to the landing page of your raffle event where they can find more in-depth information. If you don't own a website, you can always collaborate with website owners to advertise on their website.
Raffle Page The more detailed your raffle page is, the more easy it is for your users to understand. Make sure you include calm colors, write memorable headlines, use high-quality banner images, to make your raffle page more compelling. Also, make sure it's user friendly so it is easier for your customers to purchase tickets.
Communities and Forums Communities and forums are filled with like-minded people with similar interests. Promoting your raffle events in online communities and forums can help you acquire participants who want to support your cause. Platforms like Reddit are filled with such communities where you'll be able to find your target audiences.
Creating Your Own Communities If you cannot find suitable communities, you can always form your own. Each social media platform allows you to form your own groups and create pages. You can send invites to people to join your page and your group. But make sure you get started with this before you are planning to launch your raffle event. You can create Facebook groups, Linkedin groups, pinterest groups, and google plus communities. If you don't have time to create your own community, you can promote your raffle event in communities created by others. But be mindful of the rules they have for posting and promotion.
Videos Videos are one of the most effective ways of promotion. Sure it takes time to create quality videos but in the end, it's all worth it. You can use tools to make the painstaking process easier for yourself and create captivating videos for your audiences. Once you are done, you can share the video on various social media channels and video sharing platforms such as Youtube, Vimeo etc. Your videos must include all the essential details such as how to enter, your raffle content's URL, a call to action, prize details and much more. If you are planning to shoot a video for your campaign, make sure it consists of good lighting, attractive backdrop, and a crisp, clear script. Also, make sure your video is to the point. To make it more attractive, make sure you use a compelling thumbnail so that people feel tempted to click. You can also create attractive GIFs to promote your contest.
Influencers Collaborating with influencers is another great way of promoting your contest. You can find influencers in your niche and ask them to promote your contest with the help of blogs, graphics, YouTube videos etc. This can significantly increase your quality leads and can help you increase the number of participants effectively.
Press Releases Press releases are another way of effective written communication. There are several news websites that publish PR and several people follow them religiously. With the help of these websites and some writers, you can get your PR published containing all the details of your contest. Make sure that instead of crafting it into a news piece, you promote it as a story. Keep your focus on the cause and make sure the headline is catchy as well as memorable.
Offline Promotion There is no doubt that online promotion is highly effective. But offline promotion can also help you do wonders for your raffle contest. You can promote your contest on radio stations, television, local newspapers etc. You can also promote your contest in local events. Flyers, hoardings and banners in local events can help you capture the attention of people. Apart from this, you can also create banners for places that receive heavy public traffic to promote your raffle contest.
Looking for a one-stop raffle software solution provider? GammaStack is the perfect pick. At GammaStack, we specialize in providing fully customizable raffle software solutions that not only align with your business goals but also exceed the expectations of your customers. Our online raffle software comes equipped with all the essential as well as latest features and tools that help you succeed in the market.


Apart from the feature-loaded raffle software solution, we provide you on-demand customization services, marketing services, 24/7 customer support as well as maintenance services.
Do you provide ready to launch raffle platforms?
Yes, we specialize in providing ready to launch as well as custom raffle platforms.
What other services do you provide?
We provide marketing services, platform maintenance services, 24/7 customer support.
Do you provide mystery box software solutions?
Yes, we provide custom mystery box software solutions.
Can you perform customizations as per my business requirements in the raffle platform?
Yes, we can perform customizations in the raffle software solution as per your business needs.
What features do you provide in your raffle software solution?
Our online raffle software development services include admin dashboards, event creation tools, automatic real-time alerts, user dashboards, KYC/AML trackers, user management tools, ticket buying systems, cryptocurrency support, calendar, scheduling tools, user created raffles, referral systems, blockchain support, wallet systems, API support, stats and much more.