All You Need To Know About White Label Betting Sites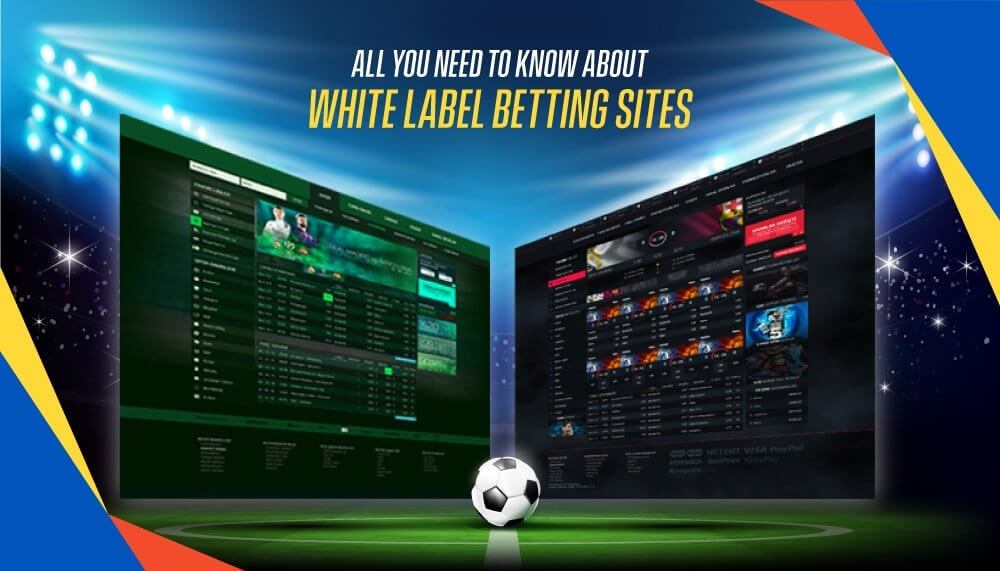 Well if you are someone associated with online betting in this world, I bet you, you haven't missed this term 'white label'. This term is used to describe a ready-made product developed by a company and provided to another company so that they can use their own branding on it. And since this blog is about betting sites, we will are taking a deep dive into white label sports betting sites and solutions.


White label betting sites are generally used by businesses that don't want to waste much of their time in researching and developing the software from scratch but they do have immense knowledge in the field of online betting. All they need is a basic architecture to start with and then they can add their own customizations into it, if required.
White labels are just like a franchise of betting, you buy it from a company and then open their online betting site to generate profits and margins while the seller will still manage and handles your technical and customer side of the business.


White labels and third-party software providers have made a lot of things easier for the people who want to quickly launch their businesses before the betting hits the peak. This can only be possible with white label sportsbook providers who can understand your requirements and deliver a white label sports betting platform in a given time.


So, if you are someone who doesn't want to invest time and money in building software from the ground up, a white label is the right choice for you.
How do white label betting websites work?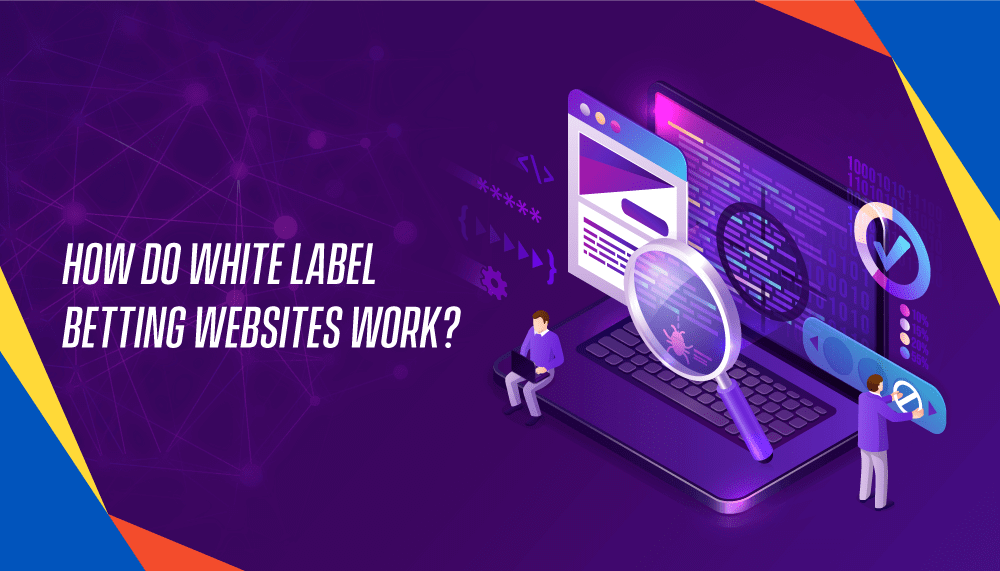 Well, we being amongst the top white label providers have received this question so many times, "how do white label betting websites work?" and our answer remains that it is just like any other online sports betting platform. Punters won't find any difference between a custom-made sports betting platform or a white label sportsbook platform unless you create something extraordinary that other betting platforms don't have which you can also add to your white label. We understand that being from the traditional culture of developing software from scratch to buying a ready-to-launch software put businesses in a dilemma but since we have to develop and deliver both types of betting platforms, we totally recommend that it is owners' choice to buy a white-label or a bespoke betting platform.


White label betting websites are a replica of sports betting websites developed by the third party provider with your name and branding. You can make changes to it, for example, change the color, or integrate the payment provider of your own choice and not forget about the licensing you need to take depending on the region you want to launch your sports betting website.


This entire process is business to business where the business that is buying the white label product acts like a consumer/customer.
Who needs a white label solution? And why?
This is one of the underrated questions when it comes to purchasing a sports betting product or platform.
To be very honest, it completely depends on the choice of the betting operator. There are startups who are switching to white label and then their existing operators who earlier might have started their betting website with a custom sports betting software but now want to re-launch their brand name with a white label sportsbook.


So, its completely the choice of the owner!


The roots for the first question lies in the answer to the second question as "why" will help the betting owners decide why they would take a white label sportsbook software.
For Startups: Well in a world where things are running at a speed of 2x, who time to develop a product from scratch. In a race to get at the top, startups really don't have to wait for something that they are able to get at a lower cost and lesser time, so yes this is one of the finest reasons startups would want to start their betting business with a white label sports betting platform.

The other way around, while you people wait for their platform development, there is some startup who is doubling their revenue as it has already launched a betting platform with a white-label, so if it's always about profit, why waste time?
For Existing Operators: Existing businesses who want to upgrade their betting platform can buy a white label sports betting platform. They make different changes including integrating sports betting real-time data or want to upgrade UI/UX of their existing platform.

Customer support can also be one of the reasons why existing operators may want to switch to another software provider. There are many white labels and third-party software providers that provide best-in-class customer support services to their betting operators, therefore, delivering an ultimate betting experience to the online gamblers.

Increasing business margins is yet another way why existing businesses want to re-launch or re-build a betting platform. They might not be getting the profit from their existing business and to ensure a better profit margin they can switch to new operators.
What is the difference between a white label and a custom-made betting solution?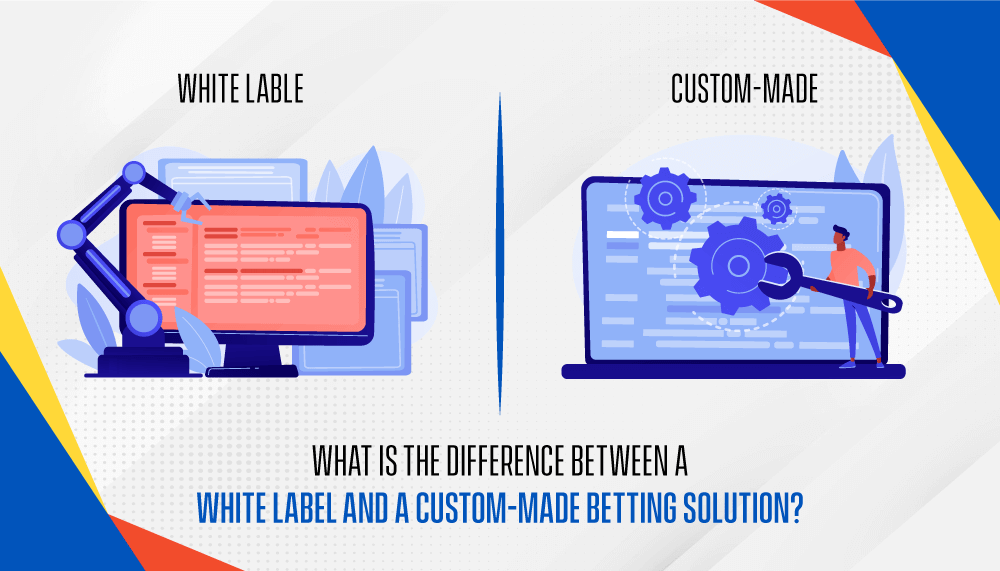 Mentioned below is the difference between white label and custom-made sports betting:
White label: It is a ready-made product developed as a replica for a betting platform that can be launched within a few months. In most of the betting websites in the UK and USA, you will find the same designs and templates. This is because many betting businesses have taken white labels to get a quick entry into the market.
Custom-made: Custom-made sports betting software is the betting platform that are made from scratch. Be it the design, templates, colors, integrations, everything is covered from the beginning. It is completely dependent upon the choice and requirements of the businesses. And depending on the business needs, custom sports betting software is made.
Different Level of Services Companies Provide
Complete Solution (White label) In this, a complete white label sports betting solution is delivered to the client taking care of every single unit in the betting operation. Be it the customer support services or the licenses, a white label solution provider covers everything for you.

These solutions are quick to set up as brands only require to check the basic things such as their regional license and the rest is taken care of by the service provider. In this way, brands can be more specific about their marketing strategy and promotions. Since they get everything under one roof, prices of white label solutions are higher as compared to the custom ones but it is worth implementing.
Partial Solution (Third-party) Pre-existing operators with more experience would want to take major things into their control and a few things were handled in the hands of third parties.

For example, they might have a better customer support team or even a license but would like to integrate real-time odds into the betting platform. Or they could ask for different payment gateways to integrate into their sports betting platform thus enabling them with their required services.
Feeds Only Now, this is the final service level where operators might just require the data feeds or want to replace the existing data service provider from their sports betting platform. This can also be true in the case if the operators want a specific kind of betting product or service in their betting platform.
Things to consider while choosing a white label service provider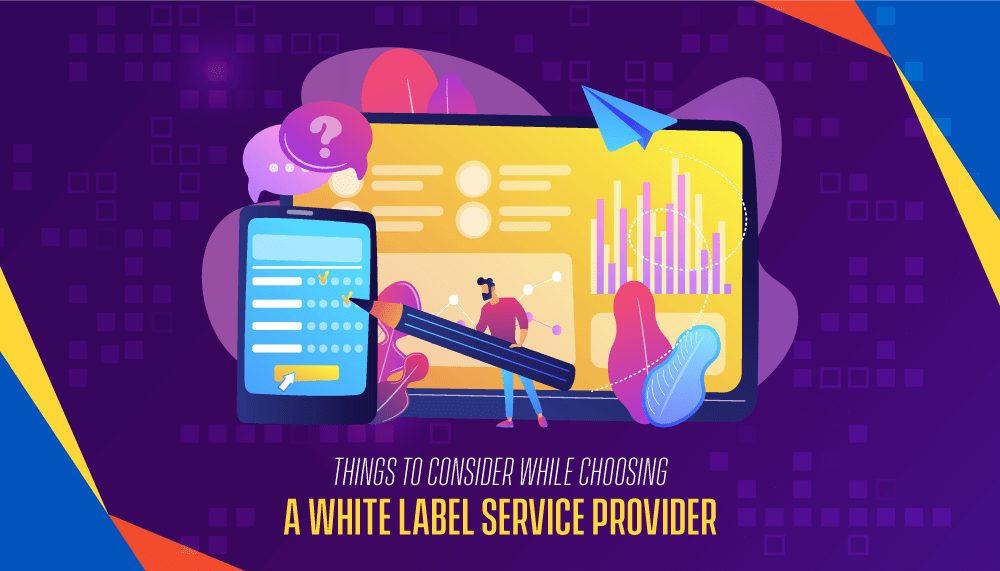 Margins Well, if you are an existing operator and planning to switch to a white-label platform, then the profit margin is something that you need to take care of. In the end, profits matter.
Demographics You need to check with the white label service provider whether or not they have their services in the area you are planning to a betting site. As the license is the foremost thing you need to open a betting website and before you begin you should definitely know that they provide the license of that area or not in their white label solution.
Business Expansion This is something that businesses are running in this fast-moving world. You should always think about business expansion with the white label solution so that you can quickly enter into the market looking at the brighter opportunities.
Reliability You should always know whether the white label solution provider is reliable or not. You must definitely take their clients' feedback and cross-check with their clients if in the slightest of doubt. This can help you make better decisions.
Business Model You must know the business model too before working with the white label sports betting solution provider and once you are aware of their business model and working models, you can make better decisions.
What is the cost of setting up a white label betting platform?
Well, this question again does not fit to everyone as it completely depends on the type of service you want to take. Whether you need complete white label sports betting software, partial or just the data feeds from the third-party provider and thus the cost varies from one solution to another.


If you want a complete solution then you may have to pay the setup fee and license fee but if you are a preexisting operator and want to change the data provider, then probably you might not end up investing a huge amount.
Well, white-label sportsbook solutions if scrutinize properly can really be a game-changer in your betting business. There are different companies that not just sell white-label but provide you with insiders that you might need while launching your betting platform and we are proud to have fallen on this list. White label betting software are the best fit for startups if you are someone who sees the big picture than concentrating on the detailings. And this idea can take your business to the heights of success in a short span of time with a white label.
GammaStack is a known white label betting platform provider that helps businesses launch their betting platform in just 3 weeks. From gambling licenses to payment providers, GammaStack has got you covered with everything you need to start your sports betting business.